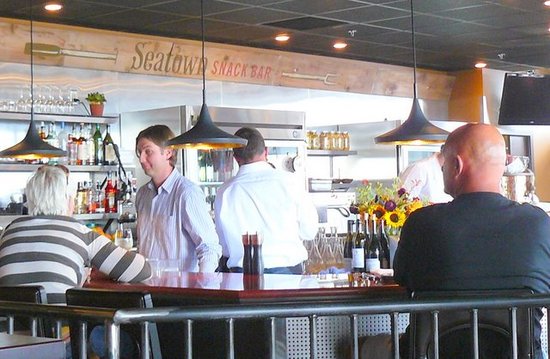 It's perhaps the most visible corner in Seattle, at the north end of the Market where Pike Place meets Virginia, and for years it was nothing more than a furniture outlet. Before the condo building, though, it had a noble history: Bavarian Meats was in that space; if memory serves, so was Starbucks. Now it's being given a new lease (heh-heh) on life as Seatown Snack Bar, the latest spawn of the expanding Tom Douglas empire. (It's also just across Western from Victor Steinbrueck park, where Douglas launches his Salmon-Chanted Evening barbecues this Saturday.)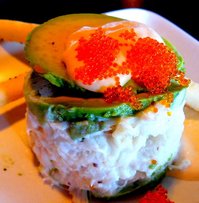 With nary a flourish or drumroll, Seatown opened this week with a menu of sandwiches ($12 to $15), smoked seafood on buckwheat blini ($9 or $10), "Seatown Platters" (ribs, chicken, veggies, $18), and an assortment of crab concoctions, all designed to please locals looking for a sidewalk spot where they can plop down and watch the wandering tourists. If there's no room outside, you can make do just as well with lunch-counter seating indoors, or a cluster of high tables. There's also a takeout next door, if you're in a hurry to get home.
The kitchen's still in the throes of figuring things out, but I have high hopes for the "Wild Thing" plate of Dungeness crab, avocado and tobiko ($15), once they reconcile the name with the timid execution.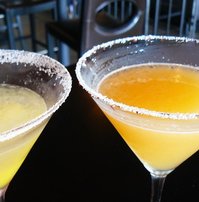 The best cocktail is called Prosser Pump, a libation of locally sourced ingredients (Dry Fly vodka from Spokane and Tuscan melon from Douglas's own farm in Prosser) with a rim of exotic aleppo pepper.
The menu credits Heath Ceramics of Sausalito, Calif., for the tableware. Can we see what's coming next? A salute to the Auto Chlor tech who services the dishwasher? (But, hey, that's just Cornichon being a dick.)
If anyone in town can bring this off, it's Tom Douglas. Here's hoping he doesn't dumb Seatown down for the tourists; the rest of us want to eat here, too!