ViolettaValery @Traviata January 14th, 2017
Torment or delight? I don't have much longer. Alfredo offers nerdy domesticity but isn't pleasure the best medicine? Sempre Libera! PS His dad hates me. #SadLife. #SeattleOpera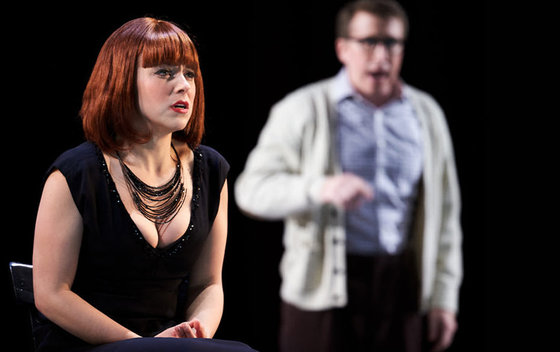 Forever free? Violetta, the doomed courtesan in the title role of La Traviata, thinks that might be preferable, She resists the challenge presented by the nerdy Alfredo, who offers the torment and delight ("croce e delizia") of true love. In the end, she opts for both: domesticity first, until that's undermined by Alfredo's stern father, Germont, then death. All this drama in what is, alas, a humorless, "streamlined" production that distills a classic three-act opera into 100 uninterrupted minutes of CliffsNotes mush.
Aidan Lang, in his third season now at the helm of Seattle Opera, inherited both the ship and its destination from his long-serving predecessor, Speight Jenkins, but that doesn't mean he can't tinker around the edges. Traviata, the biggest chestnut in a stable of war horses, was already on the schedule, but Lang chose the production, by the German director, Peter Konwitschny, who envisioned a one-act, modern-dress, pared-down version of Verdi's beloved masterpiece. No elaborate scenery or lavish costumes, just a chair and a pile of books. If Violetta (cough-cough, she's got TB) reminds you of Uma Thurman in Pulp Fiction, you're right. Does Alfredo look nerdy, like the guy who used to ask "Can you hear me now?" Yup.
The character whose actions drive the story off the cliff is Germont, Alfredo's stern father. He claims that his son's affair with a courtesan will ruin his daughter's chances of marriage. What a cruel, manipulative, nasty dude. (The daughter appears onstage; she's pre-pubescent.) By the time Germont figures out he's wrong about Violetta, it's too late to make amends. Some give Germont credit for a change of heart, but I've always seen him as the opera's true villain.
Germont's dickishness needs more time, more context. Pulling aside curtains onstage to reveal "inner thoughts" becomes a tedious affectation the third and fourth time. There's lovely music and fine singing at McCaw; Traviata (and Verdi) deserve a staging that's less artificial. We may not need pomp, but we do need (or at least crave) spectacle.
Like condensed milk, this is Traviata reduced to its essentials, but the flavor and the nutrition is in the full-fat version. You really can't tweet opera.
Footnotes & grace notes:
Weston Hurt, who sang Germont in the opening night production, had the same role seven years ago, in what was then called the Silver cast.
Angel Blue, the "alternate" Violetta, sang the heartbreaking "Summertime" in Seattle Opera's production of Porgy & Bess in 2011.
There's a blog called Croce e Delizia; it's about baking cookies.
Seattle Opera presents La Traviata, through Jan. 28 at McCaw Hall. Tickets online, $66 to $230. Photo © of Corinne Winters by Philip Newton for Seattle Opera.