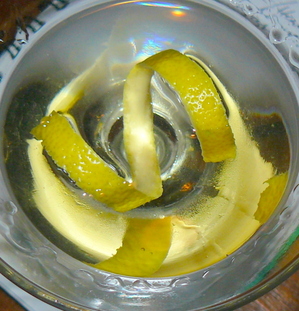 Flickering, flappering, the black & white glamor of moonshine is not just making a comeback, it's the basis for one of the greatest success stories in American distilling.
The drink on the left may look like a vodka martini with a twist, but it's not. It's that steakhouse staple, a Manhattan. Except that this one is clear, without any of the vanilla notes or amber color of your grandfather's bourbon, unless your grandfather happened to own a still in the hills of Kentucky or Tennessee or West Virginia during Prohibition. In which case, you'd probably understand the notion of a perfectly clear, unaged spirit called, variously, White Whiskey, White Lightning or White Dog.
Now, the woods of Woodinville are not exactly crawling with revenooers on the hunt for illicit stills. It was entirely legal for high school buddies Orlin Sorensen and Brett Carlile to set up shop (as Woodinville Whiskey Co.) in an industrial park backing on the Sammamish River. Carlile had made a career in sales, Sorensen flew Bombardier jets for Horizon but had lost the chance to fly bigger planes because he didn't have perfect eyesight. (Rather than feel sorry for himself, he started a motivational program to help others improve their vision through eye exercises.) At any rate, both men harbored a strong desire for some sort of joint commercial adventure and decided on a craft distillery, a business category authorized in Washington since 2008.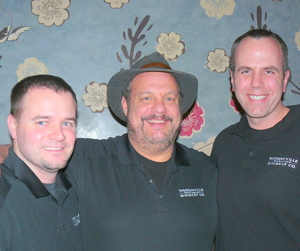 Better yet (not "better still," that would be overkill) Sorensen and Carlile had the good sense to hire a savvy consultant by the name of David Pickerell, who was the Master Distiller, no less, for Maker's Mark for almost 15 years. Pickerell helped several small distilleries get off the ground last year, has a dozen clients lined up for 2011, and loves what he sees in Woodinville. "These guys work their tails off," he says, "and they're willing to experiment. That's the strength of the small distilleries, experimenting."
Woodinville's first release, bottled while the rest of the production was aging, was White Dog. Yes, Pickerell's boys will eventually release an aged whiskey, but they're in no great hurry. Meantime, you can age your own. Seriously, they're selling age-your-own mini-barrels, a huge hit.
And now the punchline: less than seven years after its founding, WWC has been acquired by the world's largest luxury brand, Mo&eul;t Hennessy. The price was not disclosed, but you know that Moët is not a stingy company.
"We are convinced that Woodinville fits very well within the Moët Hennessy portfolio," said Christophe Navarre, president and CEO of Moët. "Orlin and Brett have done a great job to establish Woodinville Whiskey as an iconic brand in Washington state with significant potential for expanded distribution through our US and international networks."
Navarre went on, in a press release, "While we are no strangers to whiskey, with our Glenmorangie and Ardbeg single malts, we have much to learn from Orlin and Brett about American distilling and look forward to this important new partnership."
The distillery, which counts Woodinville Straight Bourbon Whiskey and Woodinville Straight Rye Whiskey as its flagship products, creates its spirits using grains sourced from the Omlin Family farm in Quincy, Washington.
Its whiskies are matured for at least five years in barrel warehouses based in Quincy, Washington, climatic conditions facilitate the aging process.
Initially launching a Microbarreled Bourbon and Rye, the company expanded its portfolio with a 5-year-old straight Bourbon in 2015, and a 5-year-old straight Rye in 2016.
Sorensen added: "We are very proud about what we have accomplished since founding Woodinville Whiskey Company just a few years ago. As we considered the many strategic opportunities before us, it was clear that being part of the Moët Hennessy portfolio and distribution network will allow us to reach our goals much more quickly.
"Brett and I are thrilled to continue leading the business and to be part of the accelerated growth we expect to achieve as part of Moët Hennessy, and its parent LVMH, the world's leading luxury goods company."
(In photo above, l ro r, Carlile, Pickerell, Sorensen)
It's the second major acquisition of a Washington State craft distillery in the past couple of years. In 2015, Rémy Cointreau took over Seattle's Westland Distillery.

Says Fred Minnick, one of the country's leading writers on whiskey, "it's unprecedented that many of these purchases are taking place outside of blue blood distilling regions." The bigger picture: if a large international drinks company doesn't have an American whiskey presence,"they're knocking people over to get to the front of the line to buy."