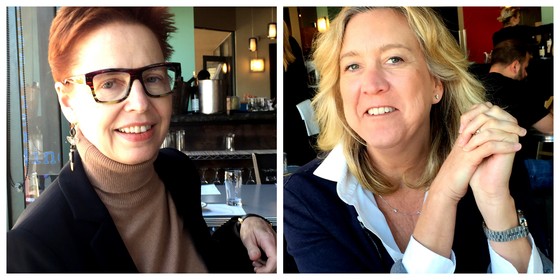 The delightful woman on the left is Ti Martin, a daughter of Ella Brennan, the great New Orleans restaurateur. The far-flung Brennans are probably the most prominent restaurant family in the Big Easy; Martin herself is the co-owner of Commander's Palace. She's in town for the National Conference of Women Chefs & Restaurateurs; lunch today at Steelhead Diner. (Chef Kevin Davis, who used to be exec chef at another Nawlins classic, Arnaud's, sent out some prosciutto, an order of soft-shell crab, and a dish of whiskey prawns; she followed that with "Sequimbeled eggs.") Where else should she eat in Seattle? Canlis, of course, but then? Sitka & Spruce, Bar Melusine, then what?
Martin (who travels with her own vial of coffee concentrate) has put together a book about her mother's start in the restaurant business and her tireless work to bring Southern cuisine to the attention of critics and chefs across the country. The "Miss Ella" story has also been immortalized in a documentary directed by the woman on the right, Santa Monica-based Leslie Iwerks, titled "Ella Brennan: Commanding the Table," which premiered at the New Orleans Film Festival in October and is now available on Netflix. You can watch a trailer here.

Some years back, BE ("Before Eataly"), Martin had a food emporium she called Foodies. (When she found out Whole Foods was going into the "groceraunt" business, she closed it.) Her next project, still on the drawing board, is called NOCHI, not to be confused with gnocchi, New Orleans Culinary & Hospitality Institute. Martin envisions it as a six-month training program for culinary workers, as well as drop-in weeks for foodies who want to learn more about, say, cocktails or baking. Tulane University has expressed interest in mounting a program at NOCHI for hospitality entrepreneurship; Jeremiah Tower says he'd like to teach there. The building, which recently housed a failed arts project, has already been identified; all that remains (hah!) is raising several more million dollars.
Meantime, a pretty scathing review of the documentary (one star out of five!) in the columns of Eater.com. Gulp!