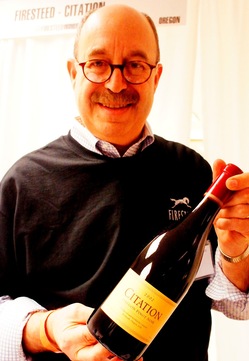 Howard Rossbach, who founded Firesteed 25 years ago as a "virtual" winery to distribute and help popularize Oregon pinot noir, has now sold the brand, but he retains the rights to his premium label, Citation.
You may remember Rossbach--a retiring sort of guy who doesn't call attention to himself--from these columns.
In a complex arrangement, the Firesteed brand and winery (outside Rickreall, Oregon) were purchased by Vintage Wine Estates, based in the Napa Valley. It's the first Oregon project for the Santa Rosa company.
In a related transaction, the owners of Flynn Vineyard, a 30-acre property adjacent to Firesteed, owned by Mickey and Jeanne Flynn, will be taken over by Pacific Rim & Company and folded into their Rainstorm brand.
Pacific Rim is owned by the Mariani family, who also run the import business Banfi Vintners. The Rainstorm brand will move to the Willamette Valley with the 2017 harvest. Production of Rainstorm Pinot Noir, Pinot Gris and Silver Linings Rosé at the Rickreall location will start with the 2017 harvest. But Rossbach plans to keep the Citation brand and Erratic Oaks Vineyard.
Said Rossbach: "I sold the Firesteed brand and inventory to Vintage Wine Estates, and the winery to Pacific Rim. I retain my 202-acre Erratic Oaks Vineyard across the road from Freedom Hill in the Willamette Valley along with my elite Citation line up of wines. Works out well for every one."
None of the parties disclosed any financial details.
Pacific Rim was founded by the Mariani family in 2010 and has moved aggressively into the Northwest with wines including Pacific Rim, Rainstorm, Eufloria, Unparalleled, Sweet Bites and Silver Totem. The GM and chief winemaker is Nicolas Quille, who is also vice president of the International Riesling Foundation.
The financial advisor to both buyers and sellers was a consulting outfit called Exvere, which advises buisinesses on capital transactions such as mergers, acquisitions, and what's known as "recapitalizations." Exvere was founded two decades ago by a Seattle business executive, Michael Brustkern, and has concentrated thus far on the maritime, aerospace, and manufacturing sectors, but brought in Eric McLaughlin, who'd been at Seven Hills and Corliss, to beef up Exvere's services to the alcohol beverage industry. Among the early transactions: , with a focus on the wineries, vineyards, craft brewers, artisan distillers, and adult beverage distributors of the Pacific Northwest.
One big fan of Exvere is Bob Betz, who built up Betz Family Cellars after he left Chateau Ste. Michelle in the 1990s and sold the business, with Exvere's help, to investors from South Africa.