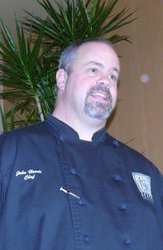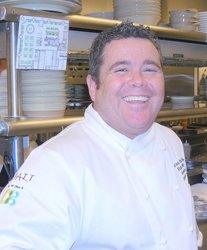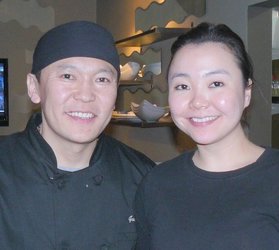 Hopeful chefs: John Howie, Brent Martin, Ganbat Puntsag
Hope springs eternal, and a good thing, too. Over on Slog, Bethany Jean Clement takes attendance in the cemetery, counting off the headstones of restaurants dead or mortally wounded. Familiar names; we bow our heads and shed a tear. And then, our moment of silence over, Life Goes On. And on and on. Many projects clearly in the works before the sky fell, plans too big to fail. Tales of ambition or folly, take your pick.
So we have List, newly opened on First Avenue (no website yet), where The Apartment once welcomed us with cucumber martinis. Owners are the Varchetta brothers, who also have Barolo. Well-taught by their mother (Mamma Melina), "the boys" have created a bustling space, as befits First Avenue, with Italian dishes and tapas.
And we have Long Provincial, an upscale Vietnamese spot in the space where Qube once sliced three ways. Owners are the folks from Tamarind Tree. Noodle soups are the specialty.
Speaking of noodles, Boom Noodle is opening a branch in Bellevue, and speaking of Bellevue, John Howie, favorite chef of the Seahawks, has opened a second Seastar, this one in the misbegotten space once occupied by Marazul. (It's in the Pan Pacific Hotel and requires a GPS or a sherpa to reach the lavatories: out the side door, through the hotel's lobby bar, through an anteroom into the main lobby, left turn past the receptionists, another left turn across the balcony, then straight ahead past the elevator bank. Or just use the facilities at Tutta Bella, next door.) Howie is also opening a steakhouse in Bellevue's new Bravern complex, and his original restaurant in Bellevue is doing well. Now he's trying hard to build a loyal clientele in Seattle with sure-fire dishes like deviled eggs (topped with truffled ahi tartar) and crab bisque.
Another Hyatt hotel, Olive 8 has opened downtown, with an ambitious "cosmopolitan" restaurant, Urbane, and a double-duty exec chef. That would be Brent Martin, who also oversees the Grand Hyatt at 7th and Pine, where there's already a Ruth's Chris steakhouse.
On Capitol Hill, upstairs from Oddfellows, Century Ballroom owner Hallie Kuperman has opened The Tin Table. A chef from New Orleans! Venison, interesting cheeses, cocktails, hooray!
On Third Avenue, opposite the doggy park, Ganbat Puntsag and his wife, Sally, have opened Gambas, a fusion Japanese-French place, with a sushi bar (of course) plus lamb chops, steaks and seafood. Born in Mongolia, Gambas (as everyone calls him) cooked at Joon's Mongolian Grill in Denver before moving to Seattle. "There are still some bad people in Belltown," he acknowledges.
On Second Avenue, the Crocodile will have reopened by the time this sees print. At the back, where the dodgy bar once dispensed Red Bull, a new Via Tribunali takes wiiing. It's the fifth pizza venture by entrepreneur Mike McConnell (Capitol Hill, Queen Anne, Georgetown, Fremont), who has quietly parlayed his Caffè Vita business into one of Seattle's most successful restaurant empires. (One reason: every decent restaurant wants to serve decent coffee, so McConnell is taking the pulse of every patient in town.)
Another success story: Mackay Restaurants. El Gaucho Bellevue is open, its vast and luxurious space awaits only Microsoft, which has leased the entire Bellevue Center building above it. On Pier 70, Waterfront Seafood Grill will continue "The Cult of the Crab" through the end of March. We were particularly taken with the Maine Peekytoe Crab Salad, dressed with a cumin and coriander aioli, not to mention an exquisite chardonnay from GM Chris Sparkman's own winery. And of course the unbeatable sunset view of Elliott Bay and the Olympics.
But what is one to make of the new restaurant called Lost Lady American Cantina? In the elegant, art nouveau space that we knew as Union Square Grill, a gaudy, bawdy Tex-Mex menu that's unlike anything else downtown. Swords and pistols on the wall, staff costumed in brilliant reds, crossed flags of the Stars & Stripes and Mexico? Lost Lady sounds a lot like Lusty Lady, the strip joint; American Cantina sounds like Austin Cantina, the shuttered southwestern joint in Ballard. The food's reasonably good, but the concept, alas, is tone deaf.