Mellow Monday
Much wailing at the growing number of sushi bars in Belltown. Tell me again, why is this a bad thing?

Latest is Wild Fish, which has moved into Afrikando's space at 1st & Broad. No liquor license yet, but owner Kyeong Han is doing fine with a four-item "sushi set" of tuna, salmon, albacore and shrimp for $4 during the Mon-Sat happy hour. Even better, not on the menu, oyster sushi. Instead of being served on the half-shell, the oyster is plopped on a pillow of rice, wrapped in nori, anointed with plum sauce and topped with tobiko. It's wonderful.
Not far away, The Apartment is running its happy hour all day long on Mondays. The cucumber-infused martini is $4, and chef Colin Regis will fire up an order of calamari, $5, sauteed with garlic, sambal oelek and flavored with a bit more of the cucumber vodka.
Posted by Ronald Holden at April 18, 2005 9:33 PM | TrackBack

Recent Entries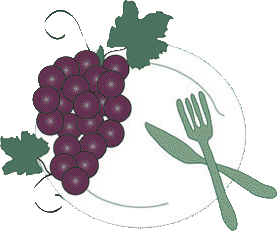 The International Kitchen
Cooking school vacations in Italy, France & Spain.
Archives
Links
The International Vineyard
, a new way to learn about wine in France, Italy and Spain: three-night programs for wine lovers in less-traveled regions.
The International Kitchen
, the leading source for culinary vacations in France and Italy.
French Word-A-Day
, fascinating lessons about language and daily life in Provence
Belltown Messenger
, chronicle of a Seattle neighborhood's denizens, derelicts, clubs, bars & eateries. Restaurant reviews by Cornichon.
Small Screen Network
, where food & drink celebrities like
Robert Hess
have recorded terrific videos.
French Chef Sally
is my friend Sally McArthur, who hosts luxurious, week-long cooking classes at the Chateau du Riveau in the Loire Valley.
Local Wine Events.com
, the worlds leading Food and Wine tasting calendar. Spirits and Beer events as well. Post your own event or sign up to be notified when new events are po sted to your own area.
VinoLover
, Seattle wine promoter David LeClaire's bulletin board of tastings, dinners and special events.
Wine Educator
Dieter Schafer
maintains a full schedule of Seattle-area tastings and seminars for amateur wine drinkers and professional alike.
Nat Decants
, a free wine e-newsletter from Natalie MacLean, recently named the World's Best Drink Writer at the World Food Media Awards in Australia. Wine picks, articles and humor; no ads.

More blogs about
food wine travel
.
Who links to me?