Published today, Assaggio Ristorante Cookbook: Mauro's Passion presents dozens of recipes by Belltown's favorite Italian chef, Mauro Golmarvi, for signature dishes like insalata Francesca, sautéed gamberoni, osso buco ala milanese.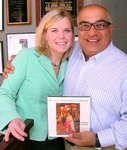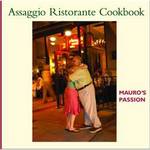 Mauro with Assaggio's general manager Kristen Johnson; sautéed gamberoni
Mouthwatering photos (by Angie Norwood Browne) and plenty of good advice, like "Keep it fresh, simple and honest." And "The point is not to make your home kitchen like a restaurant kitchen. It should be the other way around."
You can pick up autographed copies at the restaurant for $24.95 (or go online to read endorsements from Mauro fans Howard Schultz, Greg Atkinson and John Sarich).
Mauro says he wrote the book for his daughter, "future chef Francesca," so she can show it to her friends and say, "This is from my father." Lucky girl.
Assaggio Ristorante, 2010 4th Ave., 206-441-1339