Mike Steinberger writes about wine for Slate.com. His column last week recounted drinking a $700 bottle of 1996 Corton-Charlemagne from Coche-Dury; it's a perfect explanation of wine's seductive appeal...of wine in general and of this bottle in particular.


The hill of Corton, just outside Beaune, Corton-Charlemagne from Domaine Senard.
Steinberger's not alone in his enthusiasm; Robert Parker's a fan as well. So is Cornichon; we've had the good fortune of tasting several superb Corton-Charlemagnes in recent times from growers as different as Domaine Senard, Louis Jadot, Louis Latour and Bonneau du Martray.
Corton-Charlemagne's stony limestone vineyards cover 72 hectares, over 180 acres, making it the largest white-wine grand cru appellation in Burgundy. (Fewer than 40 vineyards, representing just 2% of Burgundy's acreage, have been designated grand cru.) The growers and merchants fortunate enough to own vines in Corton-Charlemagne will vinify a total of about 300,000 bottles a year. It's not so much a rare wine like Romanée-Conti (1.8 hectares, a bit more than 4 acres, producing 6,000 bottles) as a truly great one.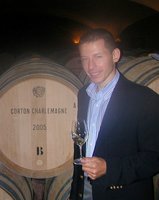 Antony Ravat at Maison Louis Jadot, named best young sommelier of France in 1999;
Louis Latour vineyards in Corton-Charlemagne.
So what can you expect for your $700? Steinberger quotes his own tasting notes: "What a nose--hazelnut, oatmeal, sweet white fruit, smoke, spice, and a touch of nutmeg. Stirring nose. Ripe, spicy, sublime, succulent grapefruit, pear. Perfect balance. Holy shit." That was just the teaser, though. When he tastes it, over dinner at an unassuming restaurant outside Paris, this reaction: "On the palate, the wine had a rich, oily texture and a Platonic balance of fruit and acidity, all backed by a steel rod of minerality. Think of your favorite painting, or favorite novel, or favorite piece of music--this was it in liquid form."
That's what wine's all about--why we tolerate the bafflement of friends, the disappointment of poor vintages, the torment of indifferent service and the frustration of inferior bottles--because we have faith that now and again, with the clarity of a religious vision, we will encounter perfection.