Mistral Kitchen: a Warm Winter Wind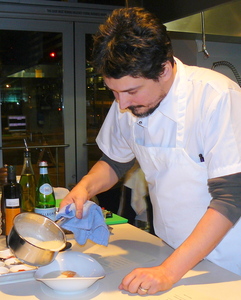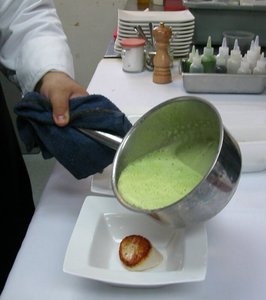 Scallops with sunchoke cream (Mistral Kitchen, Dec., 2009); scallops with cream of peas (Mistral, May, 2004)
The great scallop schism is now healed: William Belickis has returned to the kitchen, his kitchen, midway between downtown and Lake Union, at the narrow intersection of 8th and Westlake. The architect Tom Kundig has designed an industrial-modern space (anonymous doors, black steel tunnel) which Belickis has filled with kitchens: a traditional station at the glassed-in prow, rustic ovens (tandoor, pizza), technical ovens (sous-vide, convection), a pastry station. Despite the size, some 5,000 square feet, and 40 feet of windows overlooking the sidewalk, the dining spaces are intimate: a "jewel box" that seats 24 for fine dining, spots at the counter where you can watch prep cooks, a private dining room (upstairs) with a fireplace, a six-seat chef's table, secluded nooks on the main floor, a well-stocked bar.
The original Mistral in Belltown, replaced by Spur, was a true temple of gastronomy. The new Mistral Kitchen offers options. You don't have to spend three hours and $100 for dinner (though you could); you can come for a Negroni, wave hello to the cheerful staff, and be on your way into Seattle's cold, cold night.
Mistral Kitchen, 2020 Westlake Ave., Seattle, 206-623-1922

Posted by Ronald Holden at December 12, 2009 9:09 AM | TrackBack

Recent Entries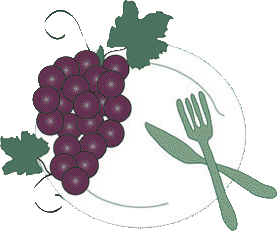 The International Kitchen
Cooking school vacations in Italy, France & Spain.
Archives
Links
The International Vineyard
, a new way to learn about wine in France, Italy and Spain: three-night programs for wine lovers in less-traveled regions.
The International Kitchen
, the leading source for culinary vacations in France and Italy.
French Word-A-Day
, fascinating lessons about language and daily life in Provence
Belltown Messenger
, chronicle of a Seattle neighborhood's denizens, derelicts, clubs, bars & eateries. Restaurant reviews by Cornichon.
Small Screen Network
, where food & drink celebrities like
Robert Hess
have recorded terrific videos.
French Chef Sally
is my friend Sally McArthur, who hosts luxurious, week-long cooking classes at the Chateau du Riveau in the Loire Valley.
Local Wine Events.com
, the worlds leading Food and Wine tasting calendar. Spirits and Beer events as well. Post your own event or sign up to be notified when new events are po sted to your own area.
VinoLover
, Seattle wine promoter David LeClaire's bulletin board of tastings, dinners and special events.
Wine Educator
Dieter Schafer
maintains a full schedule of Seattle-area tastings and seminars for amateur wine drinkers and professional alike.
Nat Decants
, a free wine e-newsletter from Natalie MacLean, recently named the World's Best Drink Writer at the World Food Media Awards in Australia. Wine picks, articles and humor; no ads.

More blogs about
food wine travel
.
Who links to me?