The Real Story Behind Toulouse Petit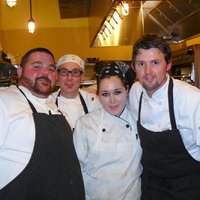 Toulouse Petit owner Brian Hutmacher, Negroni cocktail, kitchen crew (chef Eric Donnelly at right)
Cornichon readers may recall a post, barely a month ago, about a grand new place on Lower Queen Anne, Toulouse Petit. At a dinner he hosted last night for media types, owner Brian Hutmacher asked me why his lengthy comment never made it onto the blog. Oops! So many comments are porn or spam that the default (on Cornichon, for the moment) is to require manual approval for publication, and I flat missed this one. Hoping to fix all that before long.
Turns out the place isn't named for Toulouse, France, at all, but for rue Toulouse in Nawlins, where a 23-year-old Brian Hutmacher got his start in the biz. (Cornichon's very first post, by the way, was composed at Maison Dupuy on rue Toulouse.) More from Brian's (unpublished) comment:
My first job as a waiter (Brian writes) was at a little place on Toulouse Street. Its small menu was centered around Creole cuisine and had a slightly crazy chef who was immensely frustrated and talented all at once, and an English maitre d' who was enjoyed indulging his various British control issues with impressionable waiters like myself who would extend credulity to his curious inclinations.

Despite their various slightly destructive qualities (sounds so stereotypical of restaurant types, I know) the place was truly wonderful, even magical at times. It was an endeavor that those who worked there could channel what was best in them in a positive way, and that produced enjoyment for others.

I lived in an old "slaves' quarters" apartment about ten minutes walk away. Every day, when I would turn onto rue Toulouse, I knew I was going somewhere that anything might happen...I loved that feeling. And it was new and exciting to me then. And a different kind of excitement than the reasons I thought I had chosen to check out living in the Quarter for the winter.

Anyway, the name Toulouse didn't come about for this project in a firm way until 2004, when I was having lunch with my very close friend Lisa Wallace. She's a tarot reader at Tenzing Momo (and very much the real deal), and I was throwing names out to her, knowing that Toulouse was what I liked the most and would probably select anyway, but I wanted her sense of the options I was considering. I suppose you could call it a one person focus group of name-testing.
And why, after all that, is this Toulouse Petit? Because the original concept for Toulouse was for a different, much larger space. And this one is full of so many small pieces (those 85,000 mosaic floor tiles), and many, many small steps. One of those steps, Hutmacher and his GM, Shing Chin acknolwedge, will be to bring more wines from southwest France onto the menu. Bravo!
Capsule review of last night's dinner. The biggest hit was a meltingly tender veal rib chop; at $31, it's the second-most expensive item on the menu, which is in all respects quite reasonable. "Steakhouse-quality steaks in a welcome environment at accessible, neighborhood prices," the menu says. (Note to Eric Donnelly & crew back in the kitchen: fewer lardons in the mustard-shallot sauce, please; you shouldn't be trying to make this taste like bacon.) Loved the buttery grits and the creamy puréed potatoes, too. And did we mention the piping hot beignets ($5.50)? We should. Puffy clouds of dough and powdered sugar with a chicory-flavored crème anglaise for dipping, a heavenly finish.
Toulouse Petit, 601 Queen Anne Ave. N., Seattle, 206-423-9069

Posted by Ronald Holden at December 9, 2009 1:00 PM | TrackBack

Recent Entries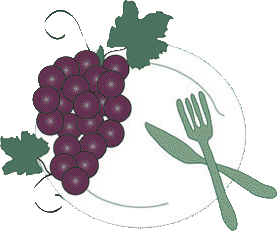 The International Kitchen
Cooking school vacations in Italy, France & Spain.
Archives
Links
The International Vineyard
, a new way to learn about wine in France, Italy and Spain: three-night programs for wine lovers in less-traveled regions.
The International Kitchen
, the leading source for culinary vacations in France and Italy.
French Word-A-Day
, fascinating lessons about language and daily life in Provence
Belltown Messenger
, chronicle of a Seattle neighborhood's denizens, derelicts, clubs, bars & eateries. Restaurant reviews by Cornichon.
Small Screen Network
, where food & drink celebrities like
Robert Hess
have recorded terrific videos.
French Chef Sally
is my friend Sally McArthur, who hosts luxurious, week-long cooking classes at the Chateau du Riveau in the Loire Valley.
Local Wine Events.com
, the worlds leading Food and Wine tasting calendar. Spirits and Beer events as well. Post your own event or sign up to be notified when new events are po sted to your own area.
VinoLover
, Seattle wine promoter David LeClaire's bulletin board of tastings, dinners and special events.
Wine Educator
Dieter Schafer
maintains a full schedule of Seattle-area tastings and seminars for amateur wine drinkers and professional alike.
Nat Decants
, a free wine e-newsletter from Natalie MacLean, recently named the World's Best Drink Writer at the World Food Media Awards in Australia. Wine picks, articles and humor; no ads.

More blogs about
food wine travel
.
Who links to me?