Over Easy in the Big Easy
By popular request, a repost from a couple-three years ago. Cornichon's very first dispatch, as I recall, recently enhanced now with more links and photos.

Wednesday
Mid-afternoon: G & I arrive from Seattle, cab from airport to Maison Dupuy, built around verdant courtyard w pool, hot tub. Unpack. Walk through French Quarter. Bourbon Street livelier, less stately than expected it to be. Bars offering 3-for-1 Happy Hour. All 3 in same glass. Actually a plastic cup, like beer at ball park. Back home, would just call this stiff drink. Early revelers seem quite happy.
Oysters at Acme. Waddell literally shucks [oysters] & jives [how y'all doin' sweetheart]. Starts us off with a dozen, and somewhere after two or three [dozen] we signal a halt. Munch on soda crackers dipped in red sauce. Drank wine, should have had beer, but didn't know yet about Abita.
Back to Maison Dupuy for nap & swim.
Dinner: Tujague's, set up by Carey, who knows everybody in New Orleans. Owner Steve Latter greets us, seats us, and waiter says "You won't see a menu, folks, it's all been taken care of." Call this the menu dégustation of N'awlins. Start w Abita Amber that Glenda spots on drinks menu. Wonderful. Then a bottle Santa Margherita pinot grigio. Food starts coming. Shrimp w white & red remoulades. Then gumbo w andouille sausage, shrimp. World's tenderest beef brisket topped w red horseradish sauce. Combo plate: crawfish over fresh noodles, prawns in white sauce w andouille over rice, friend chicken w garlic potatoes, extraordinary filet mignon. Dessert at last: a bread pudding w bourbon sauce.
Music: free ferry from dock outside casino, across Mississippi to Algiers neighborhood. Walk past modest, well-kept houses along levee to Old Point Bar. G & I are oldest people in room by maybe 20 years. More Abita while listening to exciting combo, George Porter on guitar, Johnny V. on drums. After set ends, notice that Johnny can't stand by himself. But boy, can he coax sounds from those drums ! Cab back to hotel.
Thursday
If you go to bed at 1:30, you don't wake up till almost 9, right ? Wrong. More like 10:30. At 11 or so, walk past Pat O'Brien's. Famous bar where Hurricane was invented. Not ready for full Hurricane treatment, though. Drink New Orleans Fizz ... basically a Ramos Fizz without the egg white. Nobody makes Ramos Fizz anymore. Salmonella. Fizz goes down like milkshake.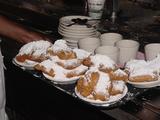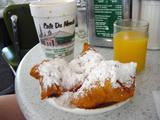 Breakfast: café au lait and order of beignets at Café du Monde. Starbucks no match for this. For one thing, live jazz from trio on sidewalk. For another, hot, puffy, sugar-dusted beignets. Coffee laced w chicory. Almost forgot: an orange juice, too, to wash down my pharmaceuticals.
Lunch: Walk along Decatur to Canal, zigzag up to Mother's. What a spot ! Nondescript brick building on fringe of warehouse district. No mother in sight, but evidence of contented eaters. Line up along counter, place order, take ticket over to cash register. Order cup of gumbo [for comparison purposes], cup of red beans & rice [to see what the fuss is about], Ferdi special [Mother's specialty, a po'boy filled with baked ham, roast beef and débris -- drippings from roast, pronounced day-bree, and delicious], Barq's [root beer]. Also compare three hot sauces on each table. G buys souvenir T-shirt, as present for me.
Back to hotel. While G takes nap, I go to hotel gym, spend half hour on elliptical trainer, then pool & hot tub. Gotta hurry now so we can get to dinner.
Dinner: Lilette, out on Magazine street. Corner building w high, pressed-tin ceiling. Tile floor, Burgundy walls. Order Negroni, lethal combination of Campari, Cinzano and gin. Chef John Harris named one of top ten in country by Food & Wine magazine. Bottle of Marques de Careres, rosé from Rioja. Order four appetizers. Chef's specialty is Croutini w truffles, marrow, mushrooms. Lovely sliced beets w goat cheese, walnuts. Veal cheek w mixed greens in horseradish vinaigrette, meat as sweet & tender as last night's brisket. Also warm crab salad w shavings of artichoke heart. Desserts: baked figs; goat cheese quenelles w poached pear & pistachios. Interesting: three of six dishes feature cheese & nuts.
Music [1]: cab to Rock & Bowl. Yup, music AND bowling. . Pair of rental bowling shoes on bar. Time for another Abita before music starts. Zydeco band tunes up. Zydeco music sort of funky [washboard one of the instruments], zydeco dance a sort of shuffling two-step. Very satisfying to see older folks [our own age] dancing. Young, old, white, black, large, small ... patrons pair up for a dance, go on to another partner. Men ask women, women invite men. People of all shades dancing together. Gratifying harmony.
Music [2]: cab back to Magazine St. to catch Soul Rebels, premier brass band, at Bon Temps Roule. Centerpiece is big dude, Lamar, must weigh 350. Didn't realize how much noise a brass band can make, especially with tuba and Lamar on drums ! More Abita. Cab driver gives us sightseeing tour of Garden-District-by-night enroute home.
Friday
Breakfast: Brennan's, venerable NOLA establishment. G smart, orders mimosa. Ask for a Sazerac, said to be invented @ Brennan's. Inventor should be shot. Tastes antiseptic [herbsaint, an absinthe-type of liqueur], bourbon ... G gets baked apple, beautiful. After berries in cream, I get Eggs Hussarde, w poached eggs, hollandaise, canadian bacon, holland rusks. Eggs with egg sauce, probably inspiration for Egg McMuffin. G gets Bananas Foster, another Brennan's invention, w vanilla ice cream, flambéed bananas, whiskey sauce.
Afternoon: Plantation tour. Minivan up Mississippi River to first plantation, Laura. Built by Creole family, run by women. Beautiful house, multi-colored, shaded by huge oak trees. Slave cabins out back, then fields of sugar cane, relics of life over 150 years ago. On to Oak Alley, framed by 14 live oaks. More traditional, white-painted mansion, with tour guides in period costume. Life of ease [& shame?] for some, torment & drudgery for others. Feels bizarre, eating chicken sandwich & fruit salad @ gift shop.
Dinner: Galatoire's. Another venerable NOLA institution. Room could be Seattle's beloved old Brasserie Pittsbourg w marble floors, high ceilings, white tablecloths. Formal yet personal service, as it should be. One of few places w dress code. Everyone in jacket, tie. [Guys, anyway.] Tanqueray martini comes in huge glass. Does Galatoire's Bourbon Street location suggest a three-fer ? Seems like it. G picks Louis Latour 1999 Chardonnay, Vin du Pays d'Ardèche, splendid choice. Grand Goutté appetizer: shrimp w red remoulade, crawfish, crabmeat. Nice start. Oops ... balance of notes lost. Remember enjoying the meal, however. Crabmeat Sardou ? Good coffee.
Music: Walk down to warehouse district to Howlin' Wolf, where another brass band is playing: Rebirth. Get barman to make me a stinger, except no brandy. OK then, Irish whiskey and white crème de menthe. Tastes less like toothpaste, more like peppermint Bailey's. Good sounds from bandstand. Frazier brothers, on tuba and drums, lead the way.
Saturday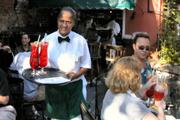 Breakfast: On the way to Decatur St., stop at Pat O'Brien's, this time for Hurricanes. Sit in shaded courtyard next to splashing fountain. Breeze and water keep courtyard cool. Move under umbrella when rain starts. Order two Hurricanes. Waitress whispers something salacious in G's ear. Never did find out what.
Lunch: On Decatur at Central Grocery, Italian deli with attitude. What, you expect these guys to have their own website? Get serious. They're serious ... about mufulettas. Huge sandwich on round loaf of bread, stuffed with meat, cheese and secret "olive salad." Absolutely delicious. And of course needs a couple of Abita Ambers to do it justice.
Afternoon: picked up by Kaufmans [senior], parents of son David's writing partner Carla. [Whole family has same initials, CMK. Even named their clothing company CMK Designs. Lamentable lack of imagination, tempered only by astonishing hospitality. City's leading epicureans and music aficionados.] Sightseeing drive, then drinks at Columns on St. Charles. Two New Orleans fizzes. Carl K. asks for top shelf tequila, switches to Abita Amber when only choice is Cuervo Gold. Oh dear.
Dinner: with Kaufmans at Feelings in the Faubourg Marigny. Decent tequila at last !! With Abita Amber as chaser, of course. Crab cake appetizer, spicy shrimp main course, bite of Dianna's peanut butter pie for dessert. Chateau Loudenne white, Chateau Larose Trintaudon red ... have managed to avoid domestic wines so far. Lovely atmosphere, charming waiter, lots to drink.
Music: No parking at Ritz Carleton, so we miss the jazz trumpeter in the lounge. Instead, we brave the traffic along St. Peter. Carl lets us out @ Preservation Hall, where we pay $5 and go down archway into room filled w 100 or so people, most of them standing. No food, no drink, just music. Seven guys on chairs, wearing white shirts, playing trumpet, trombone, sax, clarinet, tuba, snare drums and piano. Sign announces $$ for requests: $2 for traditional, $10 for "Saints." Music is traditional, quiet, disciplined, professional ... and wonderfully moving.
Sunday
Breakfast: Walk along Dauphine to Canal, hop on St. Charles St. streetcar. Fare $1.25, and don't call it a trolley. That's San Francisco. This is Nawlins, and it's a Streetcar, baby. Ride past Garden District mansions, Loyola & Tulane campuses, Audubon park, all the way to the levee at Riverbend. Wait in line to get inside Camellia Grill, then wait on plastic-covered couch until two counter seats open up. Looks like archetype of "greasy spoon" diner. Wrong. Skipped the famous waffles in favor of chili omelet, extra cheese, extra onions. Huge concoction arrives shortly, smothered with chili beans, surrounded by fries. Surprise is that it's amazingly light and positively delicious. Irresistible, in fact.
Afternoon: ride part of way on St. Charles St. streetcar, walk along Magazine St., return to hotel for swim. Us Seattleites do enjoy our moments in the pool.
Dinner: Arnaud's, another New Orleans institution. Another high-ceilinged room, 15 chandeliers, 15 ceiling fans. Tanqueray martini about half the size of Galatoire's, maybe they haven't heard of the cocktail hour three-fer. Chateau Greysac falls a bit short. Oysters Bienville, created here, are good, although finding the oyster under mound of mushroom duxelles proves a challenge. Shrimp Arnaud is just shrimp with red sauce. Crab cakes w Creole sauce are good [crab cakes] but blah [sauce]. Arnaud puffy potatoes pretty good; served with enough béarnaise sauce to drag down a riverboat. Creamed spinach OK, but I make equally interesting at home. G's filet mignon, on other hand, is fantastic. Tender, juicy ... Captain serves café brulôt to two Japanese visitors at next table, sloshes coffee down side of cups. Pours wine for us, sloshes down side of bottle. Why doesn't captain have napkin, when there are two dozen on nearby empty tables ? Wait in lobby for G to return from rest room; hostess doesn't look up from her magazine, not even when I say goodbye & head for door. Step back inside, march assertively to desk, ask her whether she actually gets paid to read magazines. No answer, only titters from other hostesses. Harrumph.
Music: our last night. Decide to go back to Preservation Hall. Young Japanese woman sits in on drums for one number, really gets into it. Apparently Harry Connick Jr. got his start here when he was 12, sitting in on piano. Good idea, old pros jamming with young hopefuls. Last song, final set: the Saints finally Come Marching In. Couldn't be better.
Monday
Time to go. Favorite memories: oysters at Acme ... brisket at Tujagues ... Ferdi's special po'boy at Mother's ... breakfast baked apple at Brennan's ... breakfast omelet at Camellia's ... swimming in courtyard pool at Maison Dupuy ... zydeco at Rock & Bowl ... jazz at Preservation Hall ... riding the St. Charles Street trolley, er, streetcar ... beignets at Café du Monde ... just being at Galatoire's ... sitting outside at The Columns ... slugging back the tequilas with Carl at Feelings, ... drinking Abita Amber everywhere ...
Carl's son Carey meets up with us at airport, directs me to café where I might still be able to get a decent oyster po'boy, but we rush past it on way to gate. Fly back to Seattle, determined to return. Gotta try the [fried] oyster po'boy @ Felix's or Uglesich's, duck breast sandwich @ Bayona, jambalaya, étouffé, filé ... so many flavors, so little time. Posted by Ronald Holden at October 10, 2004 8:20 PM

Recent Entries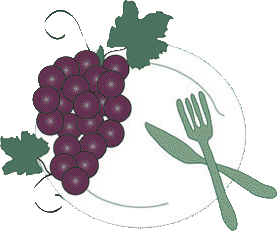 The International Kitchen
Cooking school vacations in Italy, France & Spain.
Archives
Links
The International Vineyard
, a new way to learn about wine in France, Italy and Spain: three-night programs for wine lovers in less-traveled regions.
The International Kitchen
, the leading source for culinary vacations in France and Italy.
French Word-A-Day
, fascinating lessons about language and daily life in Provence
Belltown Messenger
, chronicle of a Seattle neighborhood's denizens, derelicts, clubs, bars & eateries. Restaurant reviews by Cornichon.
Small Screen Network
, where food & drink celebrities like
Robert Hess
have recorded terrific videos.
French Chef Sally
is my friend Sally McArthur, who hosts luxurious, week-long cooking classes at the Chateau du Riveau in the Loire Valley.
Local Wine Events.com
, the worlds leading Food and Wine tasting calendar. Spirits and Beer events as well. Post your own event or sign up to be notified when new events are po sted to your own area.
VinoLover
, Seattle wine promoter David LeClaire's bulletin board of tastings, dinners and special events.
Wine Educator
Dieter Schafer
maintains a full schedule of Seattle-area tastings and seminars for amateur wine drinkers and professional alike.
Nat Decants
, a free wine e-newsletter from Natalie MacLean, recently named the World's Best Drink Writer at the World Food Media Awards in Australia. Wine picks, articles and humor; no ads.

More blogs about
food wine travel
.
Who links to me?