Win a sterling silver Wine Bottle Collar! Click here for contest details.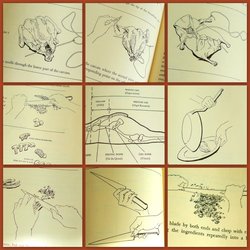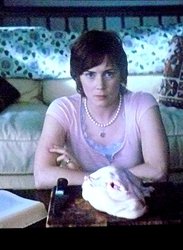 Meryl Streep as Julia Child, Amy Adams as Julie Powell; illustrations from the cookbook.
It's not news that the best reason to see Julie & Julia is Meryl Streep's flawless characterization of Julia Child. Nor will it shock anyone if Cornichon complains that Julie Powell's story (of cooking her way through Mastering the Art of French Cooking, the subject of a tedious, self-absorbed blog) is much less interesting. Julia, after all, has a more picturesque life (Paris v Queens) and lifestyle (Embassy Row v walkup above a pizzeria).
Nora Efron's movie shows Julia having fun in the kitchen, while Julie only frets and fusses. But the reason she struggles is rarely clear. Is she a lousy cook or just a crappy writer? Amy Adams is cute and perky and almost makes Julie a sympathetic character, but it's a losing battle. Amanda Hesser of the NYTimes comes to dinner as Julie approaches her self-imposed one-year deadline and is compelled to write not about her culinary skills but her profanity. Informed that Ms. Child felt the project showed insufficient respect, Julie wails, "Is it because I use the f-word?"
The real-life Julia Child's popular success, shown in the film from Julie's point of view, came only after Mastering was published. That was in 1961, when "The French Chef" premiered on WGBH TV; Julia would go on to publish a dozen more books, record umpteen seasons of TV shows and how-to videos. She traveled tirelessly, visiting Seattle at least twice, and took loving care of Paul after he fell ill.
It's too bad the movie doesn't show us why Mastering was such a success: it's brilliant use of how-to illustrations. This was before Food Network or YouTube; cookbooks showed plenty of pictures of finished dishes but almost never the individual steps. Paul Child took photographs of Julia in action and sent them--mailed them--to a graphic artist in New York, Sidonie Coryn, to be turned into exquisite line drawings. (Coryn, at last report, hadn't seen the movie.)
This wasn't even the first Julia Child story. Seattle's own Laura Shapiro wrote Julia, A Life, (paperback edition this past summer). Noel Riley FItch (PhD from Wazzu), chronicler of expat intellectuals, has a Julia bio as well. Sure, Julie got a book deal and a movie out of it, but the last laugh is Julia's: Mastering is atop the best seller list again. And, as Juilia herself would point out, learning how to cook is learning how to live.
One gets the distinct feeling that Julie Powell's best days are behind her. (Her latest book, Cleaving, about her apprenticeship in the meat-cutting biz, has been getting disastrous reviews.) Kathy Bates of Misery should play her life story 20 years hence; she doesn't deserve Amy Adams.
Nor do we ever get to see Julia as the Grande Dame of American cooking, simultaneously self-deprecating and ever-so-slightly imperious, who might have treated Julie's blog like a kitchen experiment gone wrong, an omelet that falls on kitchen counter, a live lobster than won't stay in the pot. Wipe it up, slather with butter, bake until tender.