Joey's, the Canadian chain of upscale casual restaurants,has just opened a 200-seat restaurant (and US test kitchen) in the newly expanded University Village. They closed an early spot on South Lake Union last month but have buzzing outposts in Bellevue and Southcenter. And these guys are good.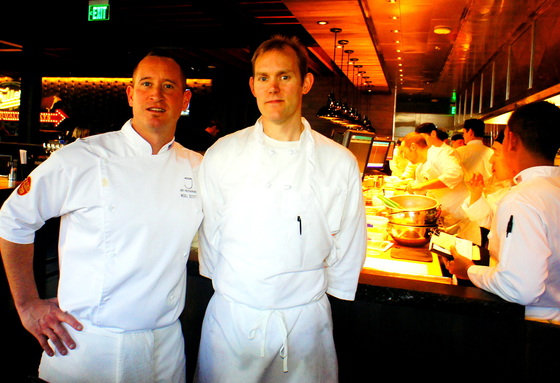 Regional exec chef Noel Scott (left) and corporate director of product development John Clark with brigade of new cooks on training day.
To begin at the beginning: Leroy Earl Fuller was born in 1930 in the wheat & cattle country of northern Montana, three hours drive east of Kalispell but only ten miles south of the Canadian border, in the tiny (pop 300) town of Sunburst, so named because of its stunning sunrises. In his mid-20s, young Earl got into restaurants, and by the time his son, Earl Junior was grown, the Fuller family got serious about the business. They opened a string of informal burger joints (called Earl's, of course) across western Canada. And then, in 1992, they got really serious with a more upscale casual concept called Joey.
Earl's youngest son, Jeff, runs Joey these days. (Earl's is separate, both are privately held.) The Joey's component alone consists of 23 restaurants. (Cornichon wrote about the chain's surprising qualities and faultless execution back in 2010.) The corporate exec chef is Chris Mills, a contestant on the original Japanese version of Iron Chef, two-time headliner at James Beard House, and competitor in the French Bocuse d'Or. What's a guy with those credentials doing at a chain you might wonder. Well, not every creative and competent chef wants or needs to fly his own plane, and it's actually quite challenging to develop programs that recruit, train (14 separate stages!), motivate and retain a cadre of cooks and managers in two dozen stores across North America.
Mills's right hand at corporate headquarters, product development director John Clark, who spearheaded the new dishes on the menu at U Village, was recruited after stints at Daniel Boulud and the Relais & Chateaux hotel in Tofino, the Wickaninnish Inn.
The original Seattle Joey fell victim to construction and traffic congestion around South Lake Union and closed in November. Now, in a University Village space designed by celebrity architects Olson Kundig, they're ready to go again. This time, the installation is designed for intensive recipe-testing, since the chain has plans to expand across the US. (Initial target: the newly remodeled Westfield Topanga mall in Canoga Park, Calif.) There's also an ambitious on-tap wine program (five Washington wines, one Oregon pinot) dubbed "Barrel Fresh" that's actually a proprietary bag-in-box system, to accompany signature cocktails like the Supersonic Gin & Tonic and the Supernova Vodka Soda.
One of those test-kitchen products, making its debut this week, is Joey's $14 veggie burger, a dish that will change the way you feel about vegetarian "substitutes." The patty itself is made with brown rice, kidney beans, almonds, and chopped shiitake mushrooms marinated in a miso-based mayonnaise. The tomato is on the bottom, below the patty, while a layer of jack cheese, plus arugula, cucumber, bread & butter pickle, sprouts and avocado are on the top. The whole thing is served pre-cut and held together with skewers.
It feels and tastes like a real burger, with a warm bun studded with toasted oats. There's plenty of crunch in the lettuce-cucumber top of the burger (the part the incisors go through first), followed by the cheese-covered, savory "meat" of the patty and the juiciness of the tomato slice.
"It eats better like that, with the tomato on the bottom," says the burger's creator, John Clark, the company's director of product development, who found every other veggie burger far too dry. "At Joey's, it's still messy, but we decided that we'd just live with it."
More new ventures from the test kitchen menu: a 500-calorie vegan salad, a duck-confit and prosciutto club sandwich on fruit-nut bread; a veggie burger (see sidebar); and a fragrant, mildly spiced, Indian butter chicken. The Key Lime pie arrives in a cloud of whipped cream. They do nice work, the Canadians.