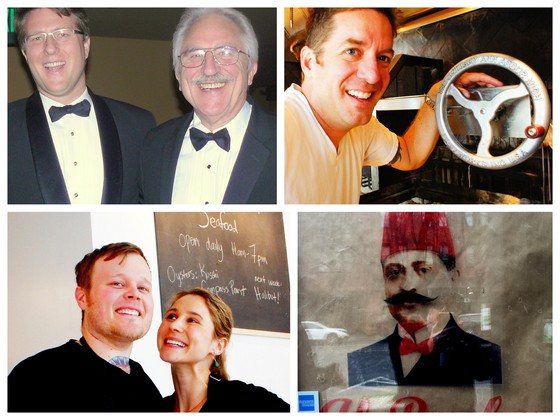 In what may prove to be a significant shift in power, two of Seattle's most prominent movers and shakers have formed an alliance. The Mackay family (founder Paul, son Chad), owners of the prestigious El Gaucho steak houses as well as Aqua (seafood) and other properties, are teaming up with celebrity chef Jason Wilson (Miller's Guild, Coffee Flour) to work on new projects. Longtime Gaucho exec chef Ken Sharp remains in place; Wilson takes the title of culinary director. The first project: a new dining room for the W Hotel in Bellevue to be called the Lakehouse and Civility & Unrest.
Second shoe dropping: everyone who loved Ernest Loves Agnes on Capitol Hill was stunned when owner Jason Lajeunesse closed the spot last month, promising to announce a new concept shortly. That has now happened: it's going to be a pizza place from Brian Clevenger, the Ethan Stowell alum who's making a name for himself (alongside fiancée Kayley Turkheimer) with Vendemmia in Madrona and Raccolto in West Seattle. he's calling the new spot Contadino, continuing the theme of Italian names (Vintage, Harvest, Farmer).
And finally, leaping into the chasm at 1st and Bell where Bellini Italian Bistro briefly glimmered are Sam Ibrahim and a business partner, the manager of Shawarma King in the U-District. Ibrahim once ran Alderwood Gyro, and will now bring "authentic" Middle Eastern food to Belltown. Not just "restaurant food" like kebabs, either, he assures me. Ibrahim's wife, Khadir, will be in charge of the desserts. New vinyl flooring is coming, as is a new grill and a new hood. Ciao, Bellini! Salaam, Basha!