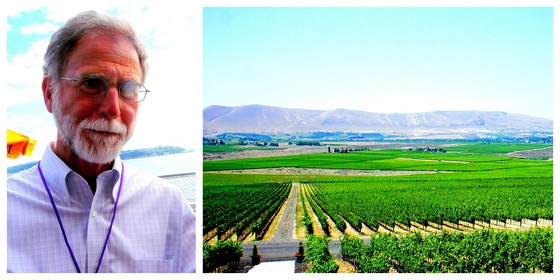 The Master of Wine is Bob Betz, and the vineyard is the crown jewel of Washington wine country, Col Solare.
Let's start with Betz. Forty years ago, he stood on a country lane in Burgundy overlooking a hillside covered with grape vines that over the centuries had produced wines of astonishing quality. The parcel had even been given a name by medieval monks: Clos de Bèze. Bèze, Betz, the similarity struck home. He turned to his wife, Cathy: "Some day, one of my own wines will be called Clos de Betz."
Betz, a Seattle native and UW graduate, was working at the time for Chateau Ste. Michelle. But 30 years later his prediction came true: first he earned the prestigious Master of Wine certification and then, after nearly 30 years at Ste. Michelle, started his own winery, Betz Family Cellars; Clos de Betz was indeed one of its top labels.
And now, like a lobbyist returning to the government he had once served, Betz is rejoining Ste. Michelle as a consultant on its most ambitious domestic project: Col Solare.
Red Mountain rises like a shallow loaf at the east end of the Yakima Valley that has, in the first decades as land for grapes, shown exceptional promise as a vineyard. The Col Solare project is a joint venture between Ste. Michelle and Italy's prominent Marchese Antinori wine family.
And how does Betz feel about returning to the fold? "I'm thrilled," he said. He knows the grapes well; he;s been guying Red Mountain cabernet for 20 years. "It's a very special place."
In a news release, Ted Baseler, the CEO of Ste. Michelle, said, "We are so proud that, for his first project outside of Betz Family, Bob decided to come home to Ste. Michelle and Col Solare. He has a long history with our team and our culture."
And what is Betz's role going to be? Well, he sold his own winery to Steve and Bridgit Griessel six years ago, and has finished up his duties as a consultant to the new owners. On to new adventures, right ?
"I'm bringing my perspective as a 'small winery' winemaker," Betz told me this weekend. "What I've learned about vineyards, grapes, process, blending." Typical Betz modesty, and yet. Who else in this state has had a 28-year career at a mega-wine producer like Ste. Michelle (finishing as VP Enology and Research), a Master of Wine degree, and a 15-year-run with his own micro-winery? Who else has that range of experience? You'd hire that guy, too. "I'll try to earn my keep," Betz said.
This post has been updated since its original publicaton on March 23rd.