Starbucks announced at its annual meeting today that it will test a new lunchtime menu of Mediterranean-inspired grab-n-go salads and sandwiches in Chicago next month. It's the latest attempt by the Seattle-based coffee company to crack the fast-casual and quick-serve markets dominated by chains like Chipotle and coffee-shop rival Dunkin Donuts.
Food currently accounts for about 20% of Starbucks revenues of roughly $20 billion, and the company said last December it hoped to double that figure in the next four years by concentrating on improved breakfast and lunch offerings. In the meantime, it will cut back its evening wine and beer programs in all but the high-end Roasteries.
The new lunch menu, dubbed Mercato (the Italian word for market), will launch in 100 Starbucks stores in downtown Chicago. Yesterday the company announced it would add more gluten-free items to its breakfast menus, starting in Seattle. Earlier this year it launched $4.45 Egg Bites, sous-vide eggs flavored with bacon, cheese and spinach.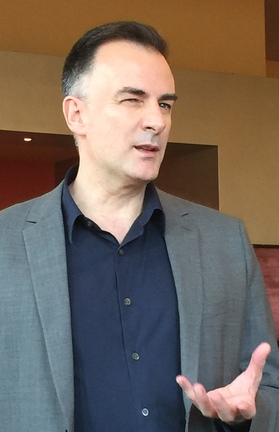 Leading the menu development team for Mercato was Luigi Bonini, Starbucks senior VP for global product innovation whose previous projects include the Chestnut Praline Latte, the Toasted Graham Latte, and the S'mores Frappuccino as well as Starbucks Bistro Boxes.
At the heart of the Mercato concept are full-meal salads like za'atar chicken, seared steak and mango, and turkey with roasted corn. Sandwich options include an almond butter with strawberries on rye that tastes like a supercharged PB&J, an herbed chicken with fig spread on a ficelle, and a cubano on a toasted roll.
Sandwiches will run between $5 and $8, full salads $8 to $9. Side salads like cauliflower tabbouleh will run $4.75 to $5.75.
The food will be prepared fresh daily at a central commissary in Chicago; any food left over at the end of the day will be donated to food bank programs.
Starbucks had earlier announced an agreement with Princi, a prestigious bakery in Milan, to serve freshly prepared Italian specialties in its Roasteries.
It was the 25th and final annual meeting chaired by the charismatic Howard Schultz, who has led the company since its early days. A $1,000 investment in Starbucks stock at the IPO 25 years ago would be worth $180,000 today. And SBUX is the third-most-admired American company (after Apple and Amazon) according to Fortune.
Relieved of day-to-day operations, he's going to concentrate (he says) on special projects, especially launching the new high-end Roastery concept around the world. But he's a natural politician and is being actively recruited by Democrats to take a more prominent role in national politics.
When a shareholder questioned the Starbucks policy of hiring refugees, criticized Schultz for speaking out against President Trump's travel ban, and revived the debunked notion that there had been a six-month "Muslim ban" under President Obama, Schultz smoothly turned the question around. "What will it take to build a great America?" he asked. "The very qualities Starbucks sees in its partners [a workforce of 330,000 in 75 countries]: empathy, generosity, humanity."
Starbucks today reaffirmed its intention to hire 10,000 refugees, mostly overseas, and has already hired 10,000 veterans domestically. It also plans to hire a total of 25,000 vets and military spouses by 2025 and to double-down on its hiring of "opportunity youth" from inner cities from the previously announced 40,000 to 100,000 by 2020.
Starbucks CEO Howard Schultz (left) turns over the key to the company's Pike Place Store to his successor, Kevin Johnson. Photo provided by Starbucks