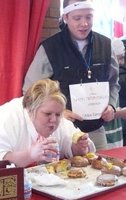 Assorted paczki, consumed by Cathy Doherty (Proctor) and winners Johnny Edge & Jeff Baskett (Queen Anne)
Paczki are Polish donuts. Bomboloni in Italy, Berliner in Germany, Krapfen in Austria (and Sicily, of all places). And in the Midwest, they're the food of Mardi Gras, a time to raid the larder and get rid of all things sugary and delicious. (Mo Rocca filed this report on the phenomenon last year for CBS.) Pronounced poonch-key, they come in plain, raspberry, and cream-filled. Metropolitan Markets, the chain of six local grocery stores, is baking them in-house this month and selling them for about $1.50 apiece.
To promote the product, they staged an in-house paczki-eating contest today at the Admiral Way store. The original plan was to include a sort of pancake race around the building, but that was called off because of weather. What was left? A traditional stuff-your-face eat-off between assorted beefy guys, which yielded no clear-cut winner. The judges conferred, then announced a runoff: an eat-off between store and bakery managers. Surprisingly, no contestant could eat more than five. Amateurs!