Eat Your Spinach!
Seattle's restaurant-goers are a savvy bunch. There's a short list of signature dishes around town, and the spinaci served at Assaggio Ristorante is on that list.

It's an unexpected take on spinach salad. Unlike your standard tossed leaves with raspberry vinaigrette, this is sautéed spinach, served warm and fragrant, redolent of pine nuts, garlic, mustard and balsamic vinegar.
Once again, 25 of Seattle's most popular restaurants are offering a month-long promotion: 3 courses at dinner for $25. Ten of the group, including Assaggio, are also offering 3 courses at lunch for $12.50.
Too bad that Assaggio's Mauro Golmarvi has his regular spinach salad, the insalata di spinaci on the promotional menus for both lunch and dinner. Still, you can always order the sauté, or just read the recipe and look at more pictures ...
ASSAGGIO RISTORANTE'S SPINACI
SAUTEED SPINACH SALAD
Serves 2.

Prepared by Chef de Cuisine Hiram Macias.
For the salad: 2 TB finely chopped onion olive oil sea salt 2 TB finely chopped garlic ½ lemon 12 oz fresh spinach leaves, washed, blanched, drained & squeezed dry ¼ cup pine nuts
For the dressing: 2 TB Dijon-style mustard 1 tsp fresh lemon juice 1 tsp balsamic vinegar

In a 12-inch pan over high heat, soften the onions in 2 TB olive oil and a pinch of salt. Add the garlic and brown it slightly. Add the spinach and heat thoroughly, about 2 minutes, adding more olive oil if needed to keep from drying out. Mix in the pine nuts, squeeze the juice of ½ lemon over the spinach, add a bit more salt if needed.

In a small bowl, whisk the dressing ingredients together quickly. Turn the salad out on a warm serving plate and drizzle with the Dijon-balsamic vinaigrette. Serve warm.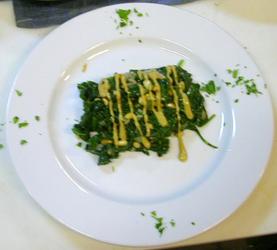 Posted by Ronald Holden at February 16, 2005 3:51 PM

Recent Entries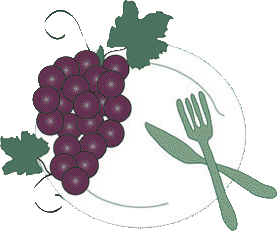 The International Kitchen
Cooking school vacations in Italy, France & Spain.
Archives
Links
The International Vineyard
, a new way to learn about wine in France, Italy and Spain: three-night programs for wine lovers in less-traveled regions.
The International Kitchen
, the leading source for culinary vacations in France and Italy.
French Word-A-Day
, fascinating lessons about language and daily life in Provence
Belltown Messenger
, chronicle of a Seattle neighborhood's denizens, derelicts, clubs, bars & eateries. Restaurant reviews by Cornichon.
Small Screen Network
, where food & drink celebrities like
Robert Hess
have recorded terrific videos.
French Chef Sally
is my friend Sally McArthur, who hosts luxurious, week-long cooking classes at the Chateau du Riveau in the Loire Valley.
Local Wine Events.com
, the worlds leading Food and Wine tasting calendar. Spirits and Beer events as well. Post your own event or sign up to be notified when new events are po sted to your own area.
VinoLover
, Seattle wine promoter David LeClaire's bulletin board of tastings, dinners and special events.
Wine Educator
Dieter Schafer
maintains a full schedule of Seattle-area tastings and seminars for amateur wine drinkers and professional alike.
Nat Decants
, a free wine e-newsletter from Natalie MacLean, recently named the World's Best Drink Writer at the World Food Media Awards in Australia. Wine picks, articles and humor; no ads.

More blogs about
food wine travel
.
Who links to me?