A Tale of Two Bistros
In Bellevue, no less than in Belltown, you are where you eat. Tasting notes from two opening nights.

Chef Kaufman, basil-mint sorbet at Basil's Kitchen
Basil's Kitchen describes itself as Mediterranean. It's in the atrium of the newly renovated Bellevue Hilton, formerly the Doubletree. "Casual yet sophisticated ... with a menu to suit all tastes."
The Belllevue Hilton's management company, Dow Hotels, are so thrilled with the concept that they're looking into franchising Basil's Kitchens beyond the six they've already opened in their various properties around the country. Says chairman Murray Dow, it's "a restaurant concept that not only would work in a hotel, but be transferable to other upscale hotels, regardless of brand." Basil's increases food service revenues by 40 percent, Dow claims.
Aside from the mechanics, Basil's has some neat things going for it. New York-born executive chef Alan Kaufman, an alumnus of the Sheraton, executes the signature dish, Basil's Salmon, with aplomb: smoked red pepper and Fontina atop a salmon fillet, surprisingly delicious. As a main course at dinner, it's $20, an iconic price point for expense-account travelers and timid tourists alike.

Chef Thiessen, smoked duck breast at 0/8 Seafood Grill
No such caution up the street at the Hyatt Regency. Dan Thiessen, who's positioning himself as Seattle's next Tom Douglas, is gambling $2.5 million that Bellevue needs both an upscale wine bar and a high-end grill. Where the original Eques and Chadfield's faltered, he is opening two adjoining concepts: 0/8 Seafood Grill and Twisted Cork Wine Bar. (Thiessen wedding anniversary is August 8th, hence the cutesy name.)
The question is whether he can pull off his concept of approachable fine-dining. One indication in his favor: the tea-smoked duck-breast with frisée salad and currant jelly on a chive pancake, $13 as an appetizer, $34 as a main course. Lots of seafood, natch (planked salmon, grilled salmon, crab cakes, sashimi scallops, fresh oysters). But with a 7,600-square-food, 300-seat emporium to fill, Thiessen is already planning to keep the grill open throughout the afternoons, an à-la-carte weekend brunch, live entertainment, and a selection of 20 bubblies by the glass in an elevated champagne lounge.
The decision to appeal to suburbanites rather than downtowners seems like a no-brainer, what with. Maggiano's, McCormick's and Trader Vic's all anxious to serve Eastsiders. Good thing Thiessen has a partner, dot-com business maven Matt Bomberger, to keep the finances on track. And though there's wi-fi at 0/8, the desired clientele isn't computer nerds but Beautiful People too bored with Belltown to leave Bellevue.
0/8 Seafood Grill, Bellevue, 900 Bellevue Way SE, 425-637-0808

Basil's Kitchen, 300 112th SE, Bellevue, 425-455-1300
Posted by Ronald Holden at November 23, 2006 9:43 AM

Recent Entries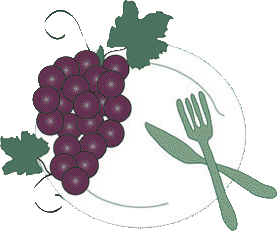 The International Kitchen
Cooking school vacations in Italy, France & Spain.
Archives
Links
The International Vineyard
, a new way to learn about wine in France, Italy and Spain: three-night programs for wine lovers in less-traveled regions.
The International Kitchen
, the leading source for culinary vacations in France and Italy.
French Word-A-Day
, fascinating lessons about language and daily life in Provence
Belltown Messenger
, chronicle of a Seattle neighborhood's denizens, derelicts, clubs, bars & eateries. Restaurant reviews by Cornichon.
Small Screen Network
, where food & drink celebrities like
Robert Hess
have recorded terrific videos.
French Chef Sally
is my friend Sally McArthur, who hosts luxurious, week-long cooking classes at the Chateau du Riveau in the Loire Valley.
Local Wine Events.com
, the worlds leading Food and Wine tasting calendar. Spirits and Beer events as well. Post your own event or sign up to be notified when new events are po sted to your own area.
VinoLover
, Seattle wine promoter David LeClaire's bulletin board of tastings, dinners and special events.
Wine Educator
Dieter Schafer
maintains a full schedule of Seattle-area tastings and seminars for amateur wine drinkers and professional alike.
Nat Decants
, a free wine e-newsletter from Natalie MacLean, recently named the World's Best Drink Writer at the World Food Media Awards in Australia. Wine picks, articles and humor; no ads.

More blogs about
food wine travel
.
Who links to me?