What a Friend We Have in Cheeses!
Blasphemy or verity? Does it matter that the cheeses were all French? That the venue for this six-course cheese-eating dinner was the venerable Mitchelli's in Pioneer Square? That the guest of honor was Lou DeLaurenti?
All God's ungulates get in on the act. Sheepish Ossau Iraty on bruschetta to start, followed by mountain-milky Comté shavings on a salad of Boston bibb and golden beets, then Calvados-washed Grain d'Orge surrounded by tomato bisque. Moving on, a goaty Bûche Maître Séguin with smoked lamb tongue and roasted portobello; cave-aged blue-veined Roquefort atop a flatiron steak; cream-infused Délice de Bourgogne with a mocha pot de crème, all matched up with four fine wines.
In the end, verity trumps blasphemy, washes away sins, grief, needless pain. Besides, Mitchelli turns 30 this year! Thirty!! A friend indeed.
Mitchelli's, 84 Yesler Way, Seattle, 206-623-3883
Posted by Ronald Holden at April 19, 2007 9:53 AM

Recent Entries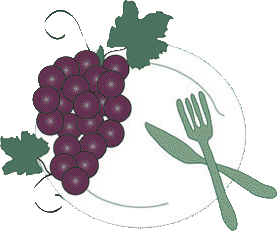 The International Kitchen
Cooking school vacations in Italy, France & Spain.
Archives
Links
The International Vineyard
, a new way to learn about wine in France, Italy and Spain: three-night programs for wine lovers in less-traveled regions.
The International Kitchen
, the leading source for culinary vacations in France and Italy.
French Word-A-Day
, fascinating lessons about language and daily life in Provence
Belltown Messenger
, chronicle of a Seattle neighborhood's denizens, derelicts, clubs, bars & eateries. Restaurant reviews by Cornichon.
Small Screen Network
, where food & drink celebrities like
Robert Hess
have recorded terrific videos.
French Chef Sally
is my friend Sally McArthur, who hosts luxurious, week-long cooking classes at the Chateau du Riveau in the Loire Valley.
Local Wine Events.com
, the worlds leading Food and Wine tasting calendar. Spirits and Beer events as well. Post your own event or sign up to be notified when new events are po sted to your own area.
VinoLover
, Seattle wine promoter David LeClaire's bulletin board of tastings, dinners and special events.
Wine Educator
Dieter Schafer
maintains a full schedule of Seattle-area tastings and seminars for amateur wine drinkers and professional alike.
Nat Decants
, a free wine e-newsletter from Natalie MacLean, recently named the World's Best Drink Writer at the World Food Media Awards in Australia. Wine picks, articles and humor; no ads.

More blogs about
food wine travel
.
Who links to me?