Playing Catch-Up
Gotta remember: pay the goddamn hosting bill and renew the domain name. Two steps, not just one. Did the one, not the other. As a result, the site was down & out for the weekend, sorry. (Didn't even know I was gone? Harrumph!) Anyway, let's catch up on what Cornichon has been eating and drinking over the past few days.
Top row:
* Kona-crusted dry-aged sirloin at Capital Grille downtown, topped with caramelized shallot butter. Same corporate owners as Olive Garden, much better food.
* Lone Star Chili at Austin Cantina in Ballard. No beans, no distractions, just slow-simmered, grass-fed, Walla Walla beef.
* Gin Ginjo martini at Qube in Belltown. Made with Hendricks, sake and muddled orchids. Could have used more punch, for my taste at any rate.
Middle row:
* Lovely sunset supper at Elliott's, a cobb salad with shrimp and crabmeat.
* Pretzel with Obatzler at Feierabend in the Cascade neighborhood. Tasty blend of soft-ripened cheese, butter, onions, paprika, but, gee, not more than two tablespoons! More on this Bavarian favorite shortly.
* Tuna salad at Boulangerie Nantaise in Belltown. Good selection of sandwiches and quiche, too.
Bottom row:
* At Union Square Grill downtown, burrata (a creamy mozzarella from River Valley Ranch) with spring onion at their annual cheese dinner.
* Gnochetti with asparagus at Osteria La Spiga on Capitol Hill. Remarkable lack of interesting asparagus preparations in Seattle this year. Pity.
* Shrimp tartaletta at Txori in Belltown. They're putting the finishing touches on the new deck, ready any day now.
Also in Belltown, Branzino (no website yet) opens tomorrow. It's an informal Italian seafood parlor (branzino being the Italian term for Mediterranean sea bass) at the corner of First and Wall, run by Peter Lamb, Michael Don Ricco and Wei Fu (owner of the no-sushi Japanese restaurant En, which formerly occupied the space).

Posted by Ronald Holden at June 2, 2008 1:51 PM | TrackBack

Recent Entries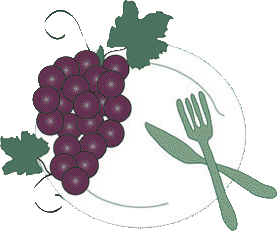 The International Kitchen
Cooking school vacations in Italy, France & Spain.
Archives
Links
The International Vineyard
, a new way to learn about wine in France, Italy and Spain: three-night programs for wine lovers in less-traveled regions.
The International Kitchen
, the leading source for culinary vacations in France and Italy.
French Word-A-Day
, fascinating lessons about language and daily life in Provence
Belltown Messenger
, chronicle of a Seattle neighborhood's denizens, derelicts, clubs, bars & eateries. Restaurant reviews by Cornichon.
Small Screen Network
, where food & drink celebrities like
Robert Hess
have recorded terrific videos.
French Chef Sally
is my friend Sally McArthur, who hosts luxurious, week-long cooking classes at the Chateau du Riveau in the Loire Valley.
Local Wine Events.com
, the worlds leading Food and Wine tasting calendar. Spirits and Beer events as well. Post your own event or sign up to be notified when new events are po sted to your own area.
VinoLover
, Seattle wine promoter David LeClaire's bulletin board of tastings, dinners and special events.
Wine Educator
Dieter Schafer
maintains a full schedule of Seattle-area tastings and seminars for amateur wine drinkers and professional alike.
Nat Decants
, a free wine e-newsletter from Natalie MacLean, recently named the World's Best Drink Writer at the World Food Media Awards in Australia. Wine picks, articles and humor; no ads.

More blogs about
food wine travel
.
Who links to me?