We Told You, Don't Call Us
Food Network auditions earlier in the week, you'll recall. (Don't remember? Click here.)
We now have follow-up reports from a couple of contenders who got callbacks, starting with Yakima Valley's John "Chef Big John" Caudill:
My demo went very well...an organic heirloom tomato salad, with arugula, fresh figs and a basil studded, broken vinaigrette...all topped with a pan roasted, chili spiced rubbed, rare duck breast. The plate was beautiful with the multi colored tomatoes and the rare, pink duck. Jennifer Sullivan, the casting director, began to drool, so we both dug in to the sumptuous warm salad.

And what about the Consolidated Restaurants "brothers" Jeremy Anderson and Eric Hellner? This report from PR rep Katie Wilkinson:
Jeremy did his thing and all went well. Then Eric went and all was equally fab! It appears Jenny wants them to take the next step together, which is a three min. demo tape and plans to pitch them to exec producers!

Jeremy made Tenderloin Stuffed King Crab Tails with fall vegetable succotash and grilled asparagus (want a pic?)

Jenny ate half of Jeremy's dish even though she was full and it was cold and the end of a long day of seeing chefs and their food. And most of all- She loved it!

Eric did oysters and highlighted our wonderful Northwest specialties!
November's tapings in New York are just around the corner, but here in the provinces, the wait goes on.
And BTW, Rachael Ray is looking, too.
Posted by Ronald Holden at September 15, 2007 9:58 AM

Recent Entries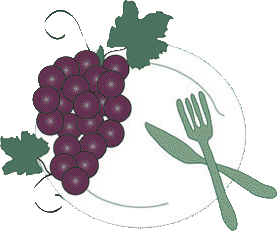 The International Kitchen
Cooking school vacations in Italy, France & Spain.
Archives
Links
The International Vineyard
, a new way to learn about wine in France, Italy and Spain: three-night programs for wine lovers in less-traveled regions.
The International Kitchen
, the leading source for culinary vacations in France and Italy.
French Word-A-Day
, fascinating lessons about language and daily life in Provence
Belltown Messenger
, chronicle of a Seattle neighborhood's denizens, derelicts, clubs, bars & eateries. Restaurant reviews by Cornichon.
Small Screen Network
, where food & drink celebrities like
Robert Hess
have recorded terrific videos.
French Chef Sally
is my friend Sally McArthur, who hosts luxurious, week-long cooking classes at the Chateau du Riveau in the Loire Valley.
Local Wine Events.com
, the worlds leading Food and Wine tasting calendar. Spirits and Beer events as well. Post your own event or sign up to be notified when new events are po sted to your own area.
VinoLover
, Seattle wine promoter David LeClaire's bulletin board of tastings, dinners and special events.
Wine Educator
Dieter Schafer
maintains a full schedule of Seattle-area tastings and seminars for amateur wine drinkers and professional alike.
Nat Decants
, a free wine e-newsletter from Natalie MacLean, recently named the World's Best Drink Writer at the World Food Media Awards in Australia. Wine picks, articles and humor; no ads.

More blogs about
food wine travel
.
Who links to me?