Miniburgers & Alpines: Growing Up
Cascadia's new Happy Hour opens at 5PM Wednesday. As they say on TV, "This is an early review."
Nostalgia ain't what it used to be. "Two miniburgers and an Alpine, please"--Seattle's best Happy Hour treat for the grand total of $5.50 only two years ago--is no more.
Oh, how we have loved them, those bite-size, one-buck burgers! And they're not exactly gone, as in g-gone [sniff!] for good; they've just [sniff!] grown up, and they're gonna cost $2.50. For years, we have sipped them, those sweet, tangy Alpines, and they're not g-gone, either; but they've grown up, too, up from $3.50 to $4.50, now priced at $5.50 during happy hour, $11 after 7 PM.
Ahh, but in their place, but in their place!
Vodka-cured salmon, the vodka being saffron-infused, from Oregon's new craft distrillery, Sub Rosa. A lavish plate of market charcuterie. Alaska spot prawn sashimi. Bowls and baskets of olives, crackers, poppadoms and tapenade. A whole new line of classic cocktails (Side Car, El Diablo, Champs Élysées) not to mention Planet C (with Subrosa's tarragon vodka) and Brooklyn-to-Belltown (with Rittenhouse Rye--I'll pass, thanks, not being a fan of Peychaud bitters).
Yes, this is the revitalized Cascadia (pronounced "dead" lo this past weekend by a myopic observer of Seattle's restaurant scene). Some, no doubt, will miss the lobster topping on the miniburgers. In their place, make room at the bar for fans of Satan's Whiskers (Plymouth gin, vermouth, Grand Marnier).
Count us in.
Also making its debut today: the full-color, print edition of Delicious City, yours truly as editorial director. And if you don't live in the downtown Seattle distribution area, you can read it online at DeliciousCity.com
Posted by Ronald Holden at September 26, 2007 10:56 AM

Recent Entries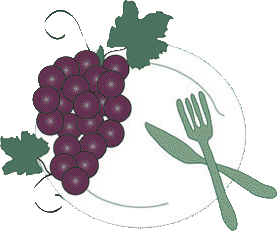 The International Kitchen
Cooking school vacations in Italy, France & Spain.
Archives
Links
The International Vineyard
, a new way to learn about wine in France, Italy and Spain: three-night programs for wine lovers in less-traveled regions.
The International Kitchen
, the leading source for culinary vacations in France and Italy.
French Word-A-Day
, fascinating lessons about language and daily life in Provence
Belltown Messenger
, chronicle of a Seattle neighborhood's denizens, derelicts, clubs, bars & eateries. Restaurant reviews by Cornichon.
Small Screen Network
, where food & drink celebrities like
Robert Hess
have recorded terrific videos.
French Chef Sally
is my friend Sally McArthur, who hosts luxurious, week-long cooking classes at the Chateau du Riveau in the Loire Valley.
Local Wine Events.com
, the worlds leading Food and Wine tasting calendar. Spirits and Beer events as well. Post your own event or sign up to be notified when new events are po sted to your own area.
VinoLover
, Seattle wine promoter David LeClaire's bulletin board of tastings, dinners and special events.
Wine Educator
Dieter Schafer
maintains a full schedule of Seattle-area tastings and seminars for amateur wine drinkers and professional alike.
Nat Decants
, a free wine e-newsletter from Natalie MacLean, recently named the World's Best Drink Writer at the World Food Media Awards in Australia. Wine picks, articles and humor; no ads.

More blogs about
food wine travel
.
Who links to me?