The Steaks Are High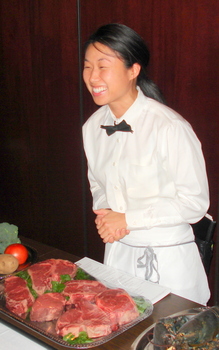 The American steakhouse--that dimly lit, mahogany-paneled, mafia-chic hideout for fat cats and their trophy molls--you'd think it would never fly in laid-back, egalitarian Seattle. You'd be wrong.
Yet another high-end steakhouse, from Atlanta's 25-unit Capital Grille chain
, is opening an outpost downtown, just steps from chain rivals Ruth's Chris
(New Orleans, 92 units) and Morton's (Chicago, 78 locations worldwide), not to mention locally-owned standbys like the Met
the Brooklyn
and Canlis
.
We were invited to a press preview of Cap Grille but were unable to attend (it was our night to uncork chianti and pour primitivo at Sorrentino) but we did get to a dinner for the media at Morton's earlier in the week
. And eventually caught up to Capital Grille as well.
Below street level, speakeasy-like, we could hear the buzz of contented patrons whenever the doors to our private "board room" would open to admit servers bearing victuals and barmen with beverages. Heading the service team, Jane Lee brought forth six cuts of steak and one living specimen of Maine lobster: a primer on prime, one might say, full of good reasons to pay top dollar for dinner. Average tab at Morton's, by the way, is $95, compared to $60 at the Space Needle (our town's top-grossing restaurant, which serves over 300,000 meals a year), beating out local top ticket Daniel's Broiler ($83, one third of it wine and spirits.)
The steakhouse business, unlike the product, is tough, especially at the top end, where clubby local institutions, like El Gaucho
and The Met in Seattle or the Ringside in Portland
, used to dominate the market. Stiff drinks, big steaks and a discreet maitre d' were enough, back then, to draw politicos, celebrities and gawkers.
It wasn't until the late 1970s that franchised steakhouses caught on nationally, luring expense-account execs with pricey cuts of meet and stratospheric wine lists. (Fleming's, a Florida steakhouse chain with moderately priced wines, didn't survive in Seattle.)
The Wall Street Journal now has a feature with floor plans of "power tables" at restaurants frequented by business celebrities, a surprising number of them steakhouses. Airline magazines and business journals regularly run "where to eat" suggestions that highlight beef emporiums. The steakhouses themselves advertise "top ten" lists. And periodically, they even get reviewed by local writers, such as the review of El Gaucho in the current issue of the Stranger.
Local reviewers often choke on the high cost of eating in a steakhouse, though Leslie Kelly, a lowbrow restaurant writer whose bizarre reviews continue to appear in the Pee-Eye, totally dissed El Gaucho for both service and meat. She did write admiringly ("a great steak") about Sizzler (a Sherman Oaks, Calif., chain with 250 units).
But gee, if Microsoft is ready to spend billions on Yahoo, the steakhouses want some of that local dot-com wealth. So the institutions are changing. Like moles coming out of the ground, they're surveying a landscape of diet-conscious eaters picking at small plates out in the open. And today's high-spending diners, it seems, want to see and be seen. An exec at Morton's acknowledges that the steakhouse-as-mafia-hideout is passé. The waiters may still wear tuxes even as (and even if) the clientele dresses in jeans, but the newest Morton's are all above-ground, with windows.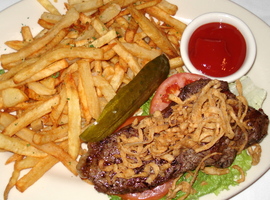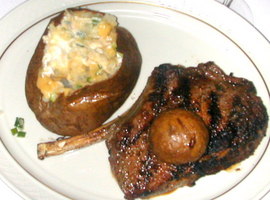 Top, porterhouse at Morton's, Jane Lee. Above, steak sandwich at Ruth's Chris, rib steak at El Gaucho
Posted by Ronald Holden at February 1, 2008 1:45 PM | TrackBack

Recent Entries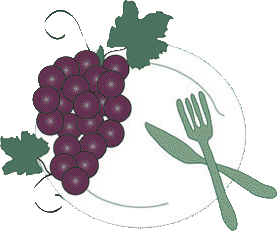 The International Kitchen
Cooking school vacations in Italy, France & Spain.
Archives
Links
The International Vineyard
, a new way to learn about wine in France, Italy and Spain: three-night programs for wine lovers in less-traveled regions.
The International Kitchen
, the leading source for culinary vacations in France and Italy.
French Word-A-Day
, fascinating lessons about language and daily life in Provence
Belltown Messenger
, chronicle of a Seattle neighborhood's denizens, derelicts, clubs, bars & eateries. Restaurant reviews by Cornichon.
Small Screen Network
, where food & drink celebrities like
Robert Hess
have recorded terrific videos.
French Chef Sally
is my friend Sally McArthur, who hosts luxurious, week-long cooking classes at the Chateau du Riveau in the Loire Valley.
Local Wine Events.com
, the worlds leading Food and Wine tasting calendar. Spirits and Beer events as well. Post your own event or sign up to be notified when new events are po sted to your own area.
VinoLover
, Seattle wine promoter David LeClaire's bulletin board of tastings, dinners and special events.
Wine Educator
Dieter Schafer
maintains a full schedule of Seattle-area tastings and seminars for amateur wine drinkers and professional alike.
Nat Decants
, a free wine e-newsletter from Natalie MacLean, recently named the World's Best Drink Writer at the World Food Media Awards in Australia. Wine picks, articles and humor; no ads.

More blogs about
food wine travel
.
Who links to me?