Pesto Manifesto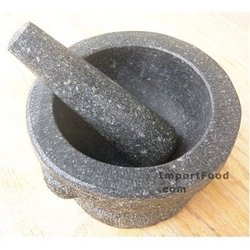 Everybody's got a stereotype, and Italians are no different: wildly passionate one moment, indifferent the next. Political corruption? cynical indifference. Matters of the heart? Passionate but fickle. Matters of the table? Ah, passionate to the core.
My Italian restaurant friends get particularly incensed when American chefs misappropriate Italian culinary language and apply a name like "carpaccio" to a plate of sliced raw meat, or "pesto" to any old green sauce.
So let's be clear: the word "pesto" comes from the Latin and means "crushed." Not chopped to smithereens by a whirling blade. We're not trying to stand in the way of progress here, but running parsley through the Cuisinart produces an industrial sludge that you might as well call Milk of Magnesia or Castor Oil; pesto genovese it ain't.
The distinction may seem trivial or irrelevant, but not for a few True Believers, purists, conservators, Keepers of the Flame. In this particular case, Italian cooks from Italy. With theological intensity, they argue that if you call something pesto, it has to be pesto. Not some metaphorical version of pesto, but the real thing, what Italians of all regions understand to be the genuine, traditional Ligurian recipe for pesto: the small leaves of Genovese basil, crushed by hand in a pestle, with garlic and olive oil, just before serving. Pine nuts optional.
Unfortunately, there's no legal protection for pesto or carpaccio or amatriciana, the way there is, say, for Chianti Classico--made from San Giovese grapes grown in a specific zone between Florence and Siena. (Notwithstanding that California's Gallo winery actually won a trademark infringement action against a Chianti Classico consortium for using the traditional logo of a black rooster, the emblamatic gallo nero.) The Italians' point is, don't call a parsley-walnut sauce made in a blender "pesto."
All too often, Seattle dumbs it down. We compromise, we fudge, we dilute. In the end, we pretend it doesn't matter, we're left with a shiny surface. Looks like chicken, tastes like dogfood. Beware.
Posted by Ronald Holden at May 13, 2008 9:30 AM | TrackBack

Recent Entries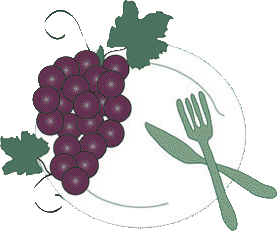 The International Kitchen
Cooking school vacations in Italy, France & Spain.
Archives
Links
The International Vineyard
, a new way to learn about wine in France, Italy and Spain: three-night programs for wine lovers in less-traveled regions.
The International Kitchen
, the leading source for culinary vacations in France and Italy.
French Word-A-Day
, fascinating lessons about language and daily life in Provence
Belltown Messenger
, chronicle of a Seattle neighborhood's denizens, derelicts, clubs, bars & eateries. Restaurant reviews by Cornichon.
Small Screen Network
, where food & drink celebrities like
Robert Hess
have recorded terrific videos.
French Chef Sally
is my friend Sally McArthur, who hosts luxurious, week-long cooking classes at the Chateau du Riveau in the Loire Valley.
Local Wine Events.com
, the worlds leading Food and Wine tasting calendar. Spirits and Beer events as well. Post your own event or sign up to be notified when new events are po sted to your own area.
VinoLover
, Seattle wine promoter David LeClaire's bulletin board of tastings, dinners and special events.
Wine Educator
Dieter Schafer
maintains a full schedule of Seattle-area tastings and seminars for amateur wine drinkers and professional alike.
Nat Decants
, a free wine e-newsletter from Natalie MacLean, recently named the World's Best Drink Writer at the World Food Media Awards in Australia. Wine picks, articles and humor; no ads.

More blogs about
food wine travel
.
Who links to me?