Local hero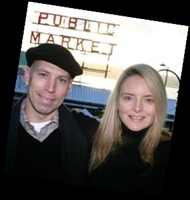 Kevin & Terresa Davis, cheese curds and Asian Pear wine, kasu-marinated cod.
A dedicated catch-and-release fisherman who ties his own flies, Kevin Davis promises you'll never find steelhead on the menu at his terrific new restaurant, Steelhead Diner. You'll find plenty of succulent seafood, though: a transcendant crabcake, a moist and flaky kazusake black cod, spice-rubbed Alaskan king salmon, beer-battered cod & chips, the sorts of dishes you'd expect from a guy who spent the last five years running the kitchen at Oceanaire.
Then again, Davis also spent two years behind the stove at Sazerac and five years before that as executive chef at Arnaud's in Nawlins, so he's into things like a complex gumbo, juicy po'-boy sandwiches (he calls his a "Rich Boy"), meltingly tender short ribs, pecan pie. In fact, less than half the menu is seafood, lest he compete with his former employer.
So far, so good. Quite a few chefs with impressive resumés out there. But here's the surprise: along the way, perhaps streamside in the Cascades, Kevin Davis must have been touched by whatever great spirit brings karma to the dinner table.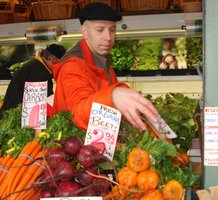 Shopping for produce at Frank's, Frank's Vegetarian Meatloaf.
With quiet conviction, he has put together a menu that is, above all, local. (It does help that the Diner's pantry is the Pike Place Market; it's in the spot abandoned almost two years ago by Vivanda.) Flash-fried cheese curds from Beecher's, down on the corner. Sausage from Uli across the way, and Armandino, in Pioneer Square. "Frank's Veggie Meatloaf" named for Pike Place produce vendor Frank Genzale. Theo chocolate, Olsen Farms potatoes, Full Circle Farm lettuce.
And it goes on: bread from Jürgen Bettag's underappreciated Golden Crown Bakery in Everett. (Jürgen recently bought out La Panzanella; just wait till he gets his act together!) Soft drinks from Seattle's ultra-sophisticated Dry Soda. A wine list composed entirely of 60-some Washington and Oregon wines, selected by an impossibly young Aaron Angelo, who avoids easy choices, opting for adventurous bottles like Windfall Asian Pear, a bright, citrusy accompaniment to seafood.
Brief aside: Windfall, founded by a former biotech ceo, donates its profits to the San Juan Community Home Trust. And Davis, having already launched one non-profit, Sea Into the Future, is now helping to underwrite a steelhead restoration initiative managed by Long Live The Kings.

Gumbo; crab cake before cooking; served with Louis sauce
Working alongside Davis as the restaurant's GM, his wife, Terresa, an Australian from Adelaide who starts law school later this year. (Steelhead's poutine--the only one west of Quebec, I'll venture--is based on her childhood snack of "chips & gravy.") And backing him up in the kitchen is Seattle's best young sous-chef, Mary Lokar, a culinary Wunderkind in her own right.
Davis himself is not a fussy innovator. "There's a reason for culinary classics, dishes that stand the test of time," he says. "When it's done right, a crabcake can be as good as anything you'll ever eat. There's an emotional response."
From the kitchen, he has a clear view of the Olympics, but he watches the front door and virtually every one of the restaurant's 95 seats. If you snag one of the seats at the counter, it's like going to a sushi bar. (Davis says Shiro Kashiba told him the most important part of being a sushi chef wasn't slicing fish but knowing how to interact with guests.) My sense is that Davis could be Seattle's next celebrity chef, with a TV show and everything. In the future, maybe. For now, he says, "I just want to be cooking in my kitchen."
Except on Mondays. Mondays he goes fishing.
Steelhead Diner, 95 Pine, Seattle. 206-625-0129
Posted by Ronald Holden at February 10, 2007 3:25 PM

Recent Entries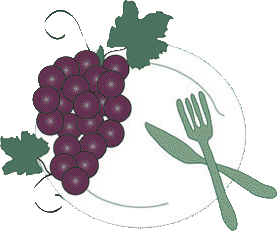 The International Kitchen
Cooking school vacations in Italy, France & Spain.
Archives
Links
The International Vineyard
, a new way to learn about wine in France, Italy and Spain: three-night programs for wine lovers in less-traveled regions.
The International Kitchen
, the leading source for culinary vacations in France and Italy.
French Word-A-Day
, fascinating lessons about language and daily life in Provence
Belltown Messenger
, chronicle of a Seattle neighborhood's denizens, derelicts, clubs, bars & eateries. Restaurant reviews by Cornichon.
Small Screen Network
, where food & drink celebrities like
Robert Hess
have recorded terrific videos.
French Chef Sally
is my friend Sally McArthur, who hosts luxurious, week-long cooking classes at the Chateau du Riveau in the Loire Valley.
Local Wine Events.com
, the worlds leading Food and Wine tasting calendar. Spirits and Beer events as well. Post your own event or sign up to be notified when new events are po sted to your own area.
VinoLover
, Seattle wine promoter David LeClaire's bulletin board of tastings, dinners and special events.
Wine Educator
Dieter Schafer
maintains a full schedule of Seattle-area tastings and seminars for amateur wine drinkers and professional alike.
Nat Decants
, a free wine e-newsletter from Natalie MacLean, recently named the World's Best Drink Writer at the World Food Media Awards in Australia. Wine picks, articles and humor; no ads.

More blogs about
food wine travel
.
Who links to me?