A Lighter Shade of Pale: the New Rose Wines of Provence
LES ARCS, Provence--These are not your deeply colored rosés, the ones that you see on the shelves of American wine shops. No, says Jean-Jacques Benetti, director of the regional showcase for Côtes de Provence wines, the new rosés are pale, pale, pale. And some of the labels are kinda sexy, too. Rosés of one night, he calls them, but it's a night of maceration, not what you think. (It's said that there's another kind of rosé, the one that gives you a suntan: you drink until you pass out on the beach.) Anyway, this one, with the girls in old bathing suits on the label, is from Château l'Arnaude, 80 percent grenache, 20 percent cinsault, and is called, ahem, Sleepless Night.
May I draw your attention to the display case behind the bottle, please? It's produced by the official Rosé Research Center, which is trying to standardize some of the language involved. For the rosés produced in the Côtes de Provence, nine descriptors, ranging from apricot and mango to melon, raspberry and red currant. All in the pink, the pale, pale pink.
It's unfortunate that the term "rosé de Provence" still doesn't get much respect from the French themselves, let alone the greater wine world. How do they taste? Well, they may be pale, but they have firm acidity to balance their high alcohol, often 13.5 or even 14 percent. There's plenty of fruit flavor, too. The color thing is all about fashion, about what's in the ice bucket on your beachside table in St. Tropez, but the fact is, they're delicious, full-flavored and refreshing.
Posted by Ronald Holden at October 22, 2008 9:00 AM | TrackBack

Recent Entries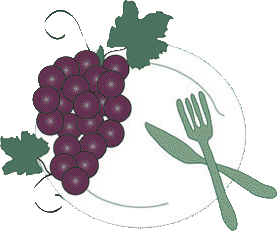 The International Kitchen
Cooking school vacations in Italy, France & Spain.
Archives
Links
The International Vineyard
, a new way to learn about wine in France, Italy and Spain: three-night programs for wine lovers in less-traveled regions.
The International Kitchen
, the leading source for culinary vacations in France and Italy.
French Word-A-Day
, fascinating lessons about language and daily life in Provence
Belltown Messenger
, chronicle of a Seattle neighborhood's denizens, derelicts, clubs, bars & eateries. Restaurant reviews by Cornichon.
Small Screen Network
, where food & drink celebrities like
Robert Hess
have recorded terrific videos.
French Chef Sally
is my friend Sally McArthur, who hosts luxurious, week-long cooking classes at the Chateau du Riveau in the Loire Valley.
Local Wine Events.com
, the worlds leading Food and Wine tasting calendar. Spirits and Beer events as well. Post your own event or sign up to be notified when new events are po sted to your own area.
VinoLover
, Seattle wine promoter David LeClaire's bulletin board of tastings, dinners and special events.
Wine Educator
Dieter Schafer
maintains a full schedule of Seattle-area tastings and seminars for amateur wine drinkers and professional alike.
Nat Decants
, a free wine e-newsletter from Natalie MacLean, recently named the World's Best Drink Writer at the World Food Media Awards in Australia. Wine picks, articles and humor; no ads.

More blogs about
food wine travel
.
Who links to me?