Pike Brewery's Barrel-Aged, Stout-Hearted "Entire"

Shavonne Maes with Pike Pub's first bottle of Entire, owners Charles & Roseanne Finkel
By the time you read this, alas, there will be virtually none left, at least not at the Pike Pub & Brewery where it originated. Not that the total production of 100 cases of 12 22-ounce "dinner size" bottles) was all that much to begin with. Ten cases reserved for the pub's walk-in customers, almost half of which were sold, at $9.99 apiece, by the end of Monday's lunch rush. The rest are being distributed to bottle shops and high-end taverns, along with a few draught kegs. Pike Pub will tap its own quarter barrel at precisely 11 AM on Friday, November 28th. Be there.
At the heart of the brew is Pike's regular 5X Stout, aged for seven months in whiskey barrels purchased from Kentucky's Heaven Hill Distilleries. To boost the alcohol, this was blended with a specially brewed batch of 12 percent Imperial Stout, then cut back to 9.5 percent with the regular 5X. The result was dubbed "Entire," evoking the tradition of blending dark, aged beers with lighter ales, a common practice in Dickensian London.
It's been the talk of the beer blogs for the last couple of weeks, so Cornichon ambled down to the pub and brewery when it opened this morning and bought the first bottle to be sold commercially. Almost black, the stout smelled like espresso; it had a rich and creamy mouthfeel with virtually no carbonation and big, wine-like flavors. Hoppy, too (Yakima Valley, Willamette, Goldings and Columbus). Terrific with a burger, though it really merits a juicy steak. A beer worth laying down, too; it will improve with a year or two of age.
Charles and Rose Ann Finkel, Pike Pub's owners, have been in Seattle for 30 years. Owner of a wine distributorship in Oklahoma, Charles was recruited by Chateau Ste. Michelle to be its national sales manager. He went on to found Merchant du Vin, the nation's first importer to focus on specialty beers. In the late 1980s he launched a brewery in the Pike Place Market, followed by a brewpub. Having sold everything, "retired," and embarked on bicycle trips to the food capitals of Europe and Asia, the Finkels ended up buying the place back two years ago, with Roseanne as president. They hired a serious brewermaster, Drew Cluley, and quickly restored Pike Brewery to prominence. The family-friendly pub features a dozen or so brews on tap, a vast array of bottles and mixed drinks. Down in the brewery, several bourbon barrels stand alongside the stainless steel trappings of a craft brewery that produces 9,000 barrels a year. (At 15.5-gallons a barrel, that's about 1.5 million 12-ounce glasses or bottles of beer. Sounds like a lot, but Budweiser probably spills more than that.)
Rose Ann is one of Seattle's most prominent foodies. She and a couple of pals owned Truffles, a specialty food store in Laurelhurst; she was chief operating officer of Merchant du Vin, started Seattle's Slow Food convivium, and is a member of Les Dames d'Escoffier. In addition to his passion for craft beer and fine wine, Charles has a remarkable talent as a graphic designer, specializing in marketing materials for breweries. He's also a writer, photographer and world traveler; his design shop website is a hoot.
Pike Pub & Brewery, 1425 First Avenue. 206-622-6044
Posted by Ronald Holden at November 24, 2008 5:00 PM | TrackBack

Recent Entries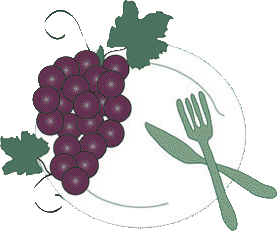 The International Kitchen
Cooking school vacations in Italy, France & Spain.
Archives
Links
The International Vineyard
, a new way to learn about wine in France, Italy and Spain: three-night programs for wine lovers in less-traveled regions.
The International Kitchen
, the leading source for culinary vacations in France and Italy.
French Word-A-Day
, fascinating lessons about language and daily life in Provence
Belltown Messenger
, chronicle of a Seattle neighborhood's denizens, derelicts, clubs, bars & eateries. Restaurant reviews by Cornichon.
Small Screen Network
, where food & drink celebrities like
Robert Hess
have recorded terrific videos.
French Chef Sally
is my friend Sally McArthur, who hosts luxurious, week-long cooking classes at the Chateau du Riveau in the Loire Valley.
Local Wine Events.com
, the worlds leading Food and Wine tasting calendar. Spirits and Beer events as well. Post your own event or sign up to be notified when new events are po sted to your own area.
VinoLover
, Seattle wine promoter David LeClaire's bulletin board of tastings, dinners and special events.
Wine Educator
Dieter Schafer
maintains a full schedule of Seattle-area tastings and seminars for amateur wine drinkers and professional alike.
Nat Decants
, a free wine e-newsletter from Natalie MacLean, recently named the World's Best Drink Writer at the World Food Media Awards in Australia. Wine picks, articles and humor; no ads.

More blogs about
food wine travel
.
Who links to me?