After the Steamrollers
Gary Merlino's occupying army spent weeks wreaking havoc on Belltown, showing no mercy as the city's dark lord dispatched his ungodly machines into every square foot of Second Avenue. Now the filthy, fire-breathing trucks have moved further south, leaving behind a fresh patina of black tar to remind us that urban living is under constant threat from Those Who Would Pave Paradise.
Like spring flowers or fall mushrooms, some unlikely signs of life follow this apocalypse: watering holes of unusual aspect whose patrons seem like thirsty refugees from some distant, unreported conflict. How else are we to explain a nightclub named Vela Pizzeria, which has yet to serve a real pizza, let alone activate its website menu, in the basement space of the Labor Temple most recently vacated by Mira? And how else to explain the Copper Cart Café, not a café at all but yet another nightclub-cum-pool hall, on the order of Belltown Billiards (and complete with bullets, even)? And how else to explain Broad Street Pizza & Pasta, rising from the ashes of Cucina De Ra (actually not on Second but not new either, though with the same owner rebranding and downshifting from fine dining).
Where Saito once wielded his sushi knife, V Noodle Bar now lights the block between Blanchard and Lenora. It's two bars, actually, plus a kitchen that turns out a perfectly respectable bowl of rice noodles, topped with a giant piece of bone-in chicken and a similarly sized battered shrimp. For $9 at midnight, not a bad deal.
The most curious find is also the most obscure, a speakeasy in the alley between Second and First, known as Bathtub Gin & Co., (no website; that would spoil it) with a tiny upstairs bar and downstairs lounge. Two dozen brands of gin on offer, with Bellringer as the house pour. We might have preferred a bit less of it and a bit more Campari in our $9 Negroni, but we made do.
V Bar & Noodle Lounge, 2122 2nd Avenue, 206-441-8227

Copper Cart Cafe, 113 Bell Street, 206-239-0830

Bathtub Gin & Co., 2205 2nd Avenue, 206-728-6069

Broad St. Pizza & Pasta, 2807 Western Ave. 206-728-9600
Posted by Ronald Holden at September 19, 2009 9:35 AM | TrackBack

Recent Entries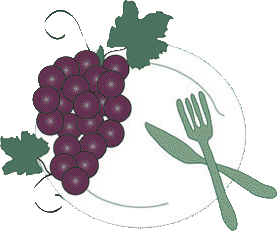 The International Kitchen
Cooking school vacations in Italy, France & Spain.
Archives
Links
The International Vineyard
, a new way to learn about wine in France, Italy and Spain: three-night programs for wine lovers in less-traveled regions.
The International Kitchen
, the leading source for culinary vacations in France and Italy.
French Word-A-Day
, fascinating lessons about language and daily life in Provence
Belltown Messenger
, chronicle of a Seattle neighborhood's denizens, derelicts, clubs, bars & eateries. Restaurant reviews by Cornichon.
Small Screen Network
, where food & drink celebrities like
Robert Hess
have recorded terrific videos.
French Chef Sally
is my friend Sally McArthur, who hosts luxurious, week-long cooking classes at the Chateau du Riveau in the Loire Valley.
Local Wine Events.com
, the worlds leading Food and Wine tasting calendar. Spirits and Beer events as well. Post your own event or sign up to be notified when new events are po sted to your own area.
VinoLover
, Seattle wine promoter David LeClaire's bulletin board of tastings, dinners and special events.
Wine Educator
Dieter Schafer
maintains a full schedule of Seattle-area tastings and seminars for amateur wine drinkers and professional alike.
Nat Decants
, a free wine e-newsletter from Natalie MacLean, recently named the World's Best Drink Writer at the World Food Media Awards in Australia. Wine picks, articles and humor; no ads.

More blogs about
food wine travel
.
Who links to me?