And The Beets Go On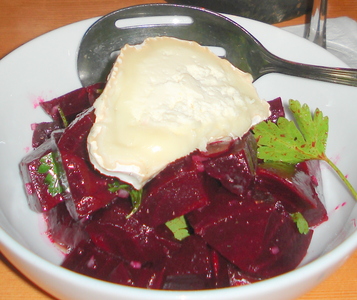 All beets are equal, more or less: tiny babies at Portage ($8), shredded at Place Pigalle ($7), lumpy at Cafe Presse ($7), chunky at Tavolata ($10). But some vegetables are more equal than others, and the question is, whose are tastiest?
Beets have become Seattle's default winter salad, served with a vinaigrette or mayonnaise dressing, sometimes accompanied by bitter greens or crunchy walnuts, almost always enhanced by a bit of cheese.
Tavolata adds a hefty slice of Spanish goat cheese, cana de cabre. Couple at the bar one night say they drove down from Canada for a serving. Worth the wait at the border, yes? But isn't ten bucks a lot to pay for the most humble of root vegetables? No, not when they're this good.
And if you're lucky, you get to see the consequences of beet-eating: beeturia. Turns pee and pooh dark red. Lucky because only 10-15 percent of the population reacts in this way, lucky because it's not hematuria (blood, which would be serious). Whew!
Portage, 2209 Queen Anne Ave. N., 206-352-6213

Place Pigalle, 81 Pike St., 206-624-1756

Café Presse, 1117 12th Avenue, 206-709-7674

Tavolata, 2323 Second Ave., 206-838-8008
Posted by Ronald Holden at January 25, 2008 9:00 AM | TrackBack

Recent Entries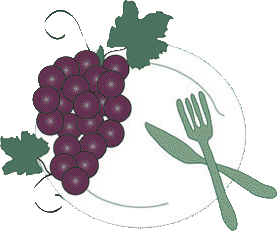 The International Kitchen
Cooking school vacations in Italy, France & Spain.
Archives
Links
The International Vineyard
, a new way to learn about wine in France, Italy and Spain: three-night programs for wine lovers in less-traveled regions.
The International Kitchen
, the leading source for culinary vacations in France and Italy.
French Word-A-Day
, fascinating lessons about language and daily life in Provence
Belltown Messenger
, chronicle of a Seattle neighborhood's denizens, derelicts, clubs, bars & eateries. Restaurant reviews by Cornichon.
Small Screen Network
, where food & drink celebrities like
Robert Hess
have recorded terrific videos.
French Chef Sally
is my friend Sally McArthur, who hosts luxurious, week-long cooking classes at the Chateau du Riveau in the Loire Valley.
Local Wine Events.com
, the worlds leading Food and Wine tasting calendar. Spirits and Beer events as well. Post your own event or sign up to be notified when new events are po sted to your own area.
VinoLover
, Seattle wine promoter David LeClaire's bulletin board of tastings, dinners and special events.
Wine Educator
Dieter Schafer
maintains a full schedule of Seattle-area tastings and seminars for amateur wine drinkers and professional alike.
Nat Decants
, a free wine e-newsletter from Natalie MacLean, recently named the World's Best Drink Writer at the World Food Media Awards in Australia. Wine picks, articles and humor; no ads.

More blogs about
food wine travel
.
Who links to me?