Food is Everywhere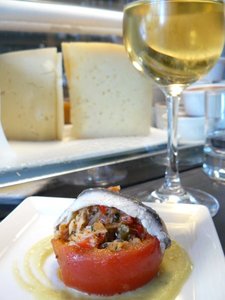 Food: it's not just what's for dinner, it's serious tourism.
The nine or ten million visitors who come to Seattle every year, they crowd the Pike Place Market and overrun our view restaurants (the Space Needle's Sky City, Shilshole's Ray's, West Seattle's Salty's). In terms of sheer numbers of visitors, the Market, of course, is Seattle's number one tourist attraction, but not necessarily the most highly rated. No, that "customer satisfaction" ranking, on TripAdvisor.com, is something called Savor Seattle Food Tours. Tourists, it seems, come here to eat. Three of the four top-rated attractions, in fact, are food-related. (In case you're wondering, the Market itself comes in 8th, Ride-the-Ducks is 12th, the Space Needle 20th, the Science Center 22nd, SAM 31st.)
The food tours are obviously a big hit. And now Seattle Food Tours (#3 on TripAdvisor) is branching out to Belltown. Yes, Belltown. Lola, Txori, Spur, Queen City Grill, Shiro's, Branzino, Macrina. and The Local Vine are the stops. Not a full meal at each one, mind you, but a quick hello, mayybe a glass or maybe a bite. Tuesday through Saturday, 3 to 5:30 PM, $49 per person. The Belltown Food Tour is available online at SeattleFoodTours.com.
Posted by Ronald Holden at October 8, 2009 10:56 AM | TrackBack

Recent Entries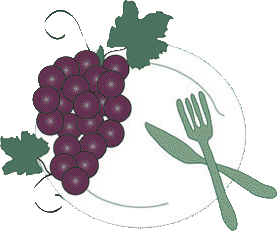 The International Kitchen
Cooking school vacations in Italy, France & Spain.
Archives
Links
The International Vineyard
, a new way to learn about wine in France, Italy and Spain: three-night programs for wine lovers in less-traveled regions.
The International Kitchen
, the leading source for culinary vacations in France and Italy.
French Word-A-Day
, fascinating lessons about language and daily life in Provence
Belltown Messenger
, chronicle of a Seattle neighborhood's denizens, derelicts, clubs, bars & eateries. Restaurant reviews by Cornichon.
Small Screen Network
, where food & drink celebrities like
Robert Hess
have recorded terrific videos.
French Chef Sally
is my friend Sally McArthur, who hosts luxurious, week-long cooking classes at the Chateau du Riveau in the Loire Valley.
Local Wine Events.com
, the worlds leading Food and Wine tasting calendar. Spirits and Beer events as well. Post your own event or sign up to be notified when new events are po sted to your own area.
VinoLover
, Seattle wine promoter David LeClaire's bulletin board of tastings, dinners and special events.
Wine Educator
Dieter Schafer
maintains a full schedule of Seattle-area tastings and seminars for amateur wine drinkers and professional alike.
Nat Decants
, a free wine e-newsletter from Natalie MacLean, recently named the World's Best Drink Writer at the World Food Media Awards in Australia. Wine picks, articles and humor; no ads.

More blogs about
food wine travel
.
Who links to me?