Molly and Brandon: Crossing Delancey
He's Brandon Pettit, musician from New York. She's Molly Wizenberg, the voice of Orangette. Their romance is chronicled in Molly's book, A Homemade LIfe ( title that makes you think it's going to be about an old lady's patterns for quilts, while it's actually two interwoven stories about Molly's dad and Molly's boyfriend). Anyway, Brandon--a composer and lecturer who studied in France (as did Molly) moved to Seattle and, wouldn't you know it, decided that his calling life was (wait for it) pizza.
And not just any pizza, but his very own pizza parlor, to be called (wait for it) Delancey. (If you don't quite get it, back up two decades, to the Amy Irving movie, Crossing Delancey.) The point of this self-referential loop of cultural expectations is about to reach fruition: Delancey (the pizza parlor, off 15th NW, in the no-man's land between Ballard and Crown Heights) has announced an opening day, August 12th, and a series of pre-opening events for friends and family. Hungry? Follow the young couple on Twitter.
Delancey, 1415 NW 70th St., delanceyseattle@gmail.com
Posted by Ronald Holden at July 27, 2009 6:00 AM | TrackBack

Recent Entries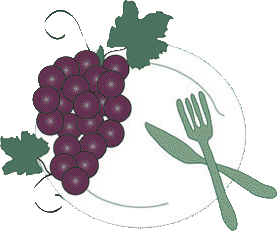 The International Kitchen
Cooking school vacations in Italy, France & Spain.
Archives
Links
The International Vineyard
, a new way to learn about wine in France, Italy and Spain: three-night programs for wine lovers in less-traveled regions.
The International Kitchen
, the leading source for culinary vacations in France and Italy.
French Word-A-Day
, fascinating lessons about language and daily life in Provence
Belltown Messenger
, chronicle of a Seattle neighborhood's denizens, derelicts, clubs, bars & eateries. Restaurant reviews by Cornichon.
Small Screen Network
, where food & drink celebrities like
Robert Hess
have recorded terrific videos.
French Chef Sally
is my friend Sally McArthur, who hosts luxurious, week-long cooking classes at the Chateau du Riveau in the Loire Valley.
Local Wine Events.com
, the worlds leading Food and Wine tasting calendar. Spirits and Beer events as well. Post your own event or sign up to be notified when new events are po sted to your own area.
VinoLover
, Seattle wine promoter David LeClaire's bulletin board of tastings, dinners and special events.
Wine Educator
Dieter Schafer
maintains a full schedule of Seattle-area tastings and seminars for amateur wine drinkers and professional alike.
Nat Decants
, a free wine e-newsletter from Natalie MacLean, recently named the World's Best Drink Writer at the World Food Media Awards in Australia. Wine picks, articles and humor; no ads.

More blogs about
food wine travel
.
Who links to me?