Politically Incorrect in Olympia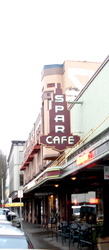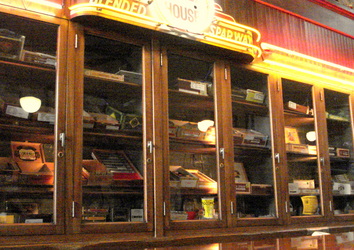 Here's something you don't see much anymore, outside of reservation smoke shops: display cases of cigars. Cohibas, Coronas, Partagas. Romeo y Julietas, Macanudos, Rocky Patels. Sure didn't expect to come upon this lineup at the Spar, a traditional lunch counter & pool room much loved in Olympia.
The Spar's been around for three score years and twelve, a citadel of rugged male drinking and a bastion of union strength back in the days of Olympia's prominence as a seaport. Over time, as the local industry turned from shipping to politics, lobbyists replaced longshoremen at the bar.
Longtime owner Alan McWain sold the Spar to McMenamin's a year ago, and there were concerns it would lose its soul. Fears proved unfounded. The McMenamin brothers have saved countless treasures in and around Portland, and haven't done the Spar any harm. (In fact, they're about to launch a micro-brewery in the back room, using the Spar's own artesian well.) The food hasn't changed; it's standard diner fare, burgers, Reubens, crab cakes.
As for the cigars, says one Olympia lobbyist, "You buy one or two after you've had lunch at the Spar, but they're cheaper to order online."
Spar Cafe Bar & Tobacco, 114 4th Ave E., Olympia, 360-357-6444
Posted by Ronald Holden at January 31, 2008 9:40 AM | TrackBack

Recent Entries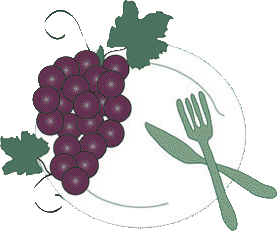 The International Kitchen
Cooking school vacations in Italy, France & Spain.
Archives
Links
The International Vineyard
, a new way to learn about wine in France, Italy and Spain: three-night programs for wine lovers in less-traveled regions.
The International Kitchen
, the leading source for culinary vacations in France and Italy.
French Word-A-Day
, fascinating lessons about language and daily life in Provence
Belltown Messenger
, chronicle of a Seattle neighborhood's denizens, derelicts, clubs, bars & eateries. Restaurant reviews by Cornichon.
Small Screen Network
, where food & drink celebrities like
Robert Hess
have recorded terrific videos.
French Chef Sally
is my friend Sally McArthur, who hosts luxurious, week-long cooking classes at the Chateau du Riveau in the Loire Valley.
Local Wine Events.com
, the worlds leading Food and Wine tasting calendar. Spirits and Beer events as well. Post your own event or sign up to be notified when new events are po sted to your own area.
VinoLover
, Seattle wine promoter David LeClaire's bulletin board of tastings, dinners and special events.
Wine Educator
Dieter Schafer
maintains a full schedule of Seattle-area tastings and seminars for amateur wine drinkers and professional alike.
Nat Decants
, a free wine e-newsletter from Natalie MacLean, recently named the World's Best Drink Writer at the World Food Media Awards in Australia. Wine picks, articles and humor; no ads.

More blogs about
food wine travel
.
Who links to me?