Postcard from Scottsdale: Shanks a Lot

Lamb shanks, at Quilted Bear (r) and Zinc Bistro in Scottsdale, Ariz.
Best-tasting thing in this cool, springtime desert: the broth of butter, white wine, leeks, lemon, thyme and rosemary in which Zinc Bistro poaches its mussels. A highlight in a brief visit to see family and drop in on some well-established local eateries.
Least-interesting thing in this Spring Training, Spring Break frenzy: the filet mignon at Claim Jumper. Ah well, I hear you say, that's your own fault, going to Claim Jumper, a chain where they specialize in removing flavor from food. But that's not entirely true: the spinach salad was perfectly fne. An off-night, perhaps.
A similar divergence at Gelato Spot, a four-unit local chain that features Italian-style ice cream. Gelato is denser than most American ice cream, but the pistacchio and hazelnut samples at their Scottsdale outpost were both far too sweet and fatty to pass muster in Italy. Yet the "forest berries" flavor was more than acceptable. Cool thing, the flower-bedecked plaza where you can enjoy your gelato in the fresh air.
Breakfast was a sure bet, at least at Butterfield's Pancake House, where our party was served a reasonable facsimile of a Dutch Baby and a more-than-decent Mediterranean Scramble (eggs, ham, tomatoes, olives, mozzarella). Four of these stores, three of them in Chicago. Over 100 choices on the menu, before you even get to the beverages, and platoons of servers who hustle plates to the hungry locals. By the time 3 PM rolls around, the staff is exhausted; they turn out the lights and go home.
That's when things get rolling at Quilted Bear. The place is bustling with regulars, older local folk who know the longtime waitresses by name. The Sunset Special offers selections from the dinner menu for a couple of bucks off, including an unremarkable lamb shank served with mint jelly and truly grim peas and carrots. The fried chicken, on the other hand, was cispy-crunchy and more than delicious.
One night later, at Zinc (long one of Cornichon's favorite restaurants), lamb shank was again on the menu, this time glistening in a deeply flavored glace de viande, on a bed of creamy polenta, preceded by the aforementioned mussels and followed by a stunning apricot soufflé. As good a meal as you can get in Seattle.
When the desert sky is blue and the afternoon temperature remains temperate, when you can convince yourself that vibrant, multicultural Seattle is just too much trouble, you can become tempted. That would be the Spring Training devil talking. There's a reason they don't play baseball here in the summer, and it's not the bland filet mignon.
Zinc Bistro, 15034 N Scottsdale Rd, Scottsdale 480-603-0922

Claim Jumper, 7000 E. Shea Blvd., Scottsdale, 480-951-6111

Butterfield's, 7388 E Shea Blvd, Scottsdale, 408-951-6002

Gelato Spot, 7366 E. Shea Blvd., Scottsdale, 408-367-9900

Quilted Bear, 6316 N. Scottsdale Rd, Scottsdale, 480-948-7760
Posted by Ronald Holden at March 25, 2009 8:20 PM | TrackBack

Recent Entries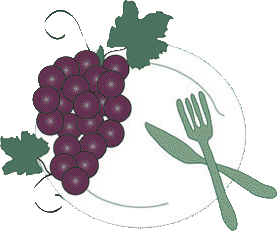 The International Kitchen
Cooking school vacations in Italy, France & Spain.
Archives
Links
The International Vineyard
, a new way to learn about wine in France, Italy and Spain: three-night programs for wine lovers in less-traveled regions.
The International Kitchen
, the leading source for culinary vacations in France and Italy.
French Word-A-Day
, fascinating lessons about language and daily life in Provence
Belltown Messenger
, chronicle of a Seattle neighborhood's denizens, derelicts, clubs, bars & eateries. Restaurant reviews by Cornichon.
Small Screen Network
, where food & drink celebrities like
Robert Hess
have recorded terrific videos.
French Chef Sally
is my friend Sally McArthur, who hosts luxurious, week-long cooking classes at the Chateau du Riveau in the Loire Valley.
Local Wine Events.com
, the worlds leading Food and Wine tasting calendar. Spirits and Beer events as well. Post your own event or sign up to be notified when new events are po sted to your own area.
VinoLover
, Seattle wine promoter David LeClaire's bulletin board of tastings, dinners and special events.
Wine Educator
Dieter Schafer
maintains a full schedule of Seattle-area tastings and seminars for amateur wine drinkers and professional alike.
Nat Decants
, a free wine e-newsletter from Natalie MacLean, recently named the World's Best Drink Writer at the World Food Media Awards in Australia. Wine picks, articles and humor; no ads.

More blogs about
food wine travel
.
Who links to me?