Return of the Pleasure Police
First an international caveat on caviar, now a fatwa against foie gras? That's what Rep. Brendan Williams of Olympia says: he's introduced legislation to ban the force-feeding of birds. Never mind that most American foie gras is produced out-of-state, by a French family (of course) in upstate New York, Williams is against it.
Williams admits he did eat foie gras once, but tells the Everett Herald he didn't know where it came from. (Right, and Clinton didn't inhale.)
Shocked, shocked he was to learn it involved gavage, overfeeding to enlarge the duck's liver, a centuries-old practice that engenders modern outrage when applied to animals but remains enshrined as freedom-of-choice when it comes to Twinkies, Big Macs and venti double-chocolate-chip Frappuccino. With extra whipped cream, please.
By the way, there are some ghastly alternatives to foie gras out there for the PC crowd, made with mushrooms and tofu. Be my guest.

Contended geese--foie gras on the hoof--along the Dordogne River in southwest France.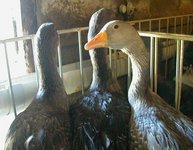 Gavage with softened grain has been practiced since Egyptian times as winter approaches to encourage the natural accumulation of fat in the goose's liver.
Posted by Ronald Holden at January 10, 2006 4:47 PM

Recent Entries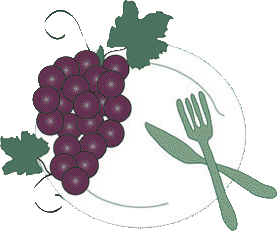 The International Kitchen
Cooking school vacations in Italy, France & Spain.
Archives
Links
The International Vineyard
, a new way to learn about wine in France, Italy and Spain: three-night programs for wine lovers in less-traveled regions.
The International Kitchen
, the leading source for culinary vacations in France and Italy.
French Word-A-Day
, fascinating lessons about language and daily life in Provence
Belltown Messenger
, chronicle of a Seattle neighborhood's denizens, derelicts, clubs, bars & eateries. Restaurant reviews by Cornichon.
Small Screen Network
, where food & drink celebrities like
Robert Hess
have recorded terrific videos.
French Chef Sally
is my friend Sally McArthur, who hosts luxurious, week-long cooking classes at the Chateau du Riveau in the Loire Valley.
Local Wine Events.com
, the worlds leading Food and Wine tasting calendar. Spirits and Beer events as well. Post your own event or sign up to be notified when new events are po sted to your own area.
VinoLover
, Seattle wine promoter David LeClaire's bulletin board of tastings, dinners and special events.
Wine Educator
Dieter Schafer
maintains a full schedule of Seattle-area tastings and seminars for amateur wine drinkers and professional alike.
Nat Decants
, a free wine e-newsletter from Natalie MacLean, recently named the World's Best Drink Writer at the World Food Media Awards in Australia. Wine picks, articles and humor; no ads.

More blogs about
food wine travel
.
Who links to me?