Son of Circus Contraption: Cafe Nordo
That cavernous space in Fremont where Circus Contraption performed? Part of the old Red Hook brewery, adjacent to Theo's chocolate factory? Well, there's good news: the space is alive and well and once again in use as an entertainment venue. The current show (running tonight through November 21st) is a spin on Teatro Zinzanni's dinner-as-theater shtick; here it's called Cafe Nordo, a floating restaurant run by a fictional martinet chef named Nordo Lefeszki.
In actuality, the project was created by Terry Podgorski, and is performed by a cast of semi-professional entertainers. In a tent-like setting (the tent being suggested by strings of lights and transluscent panels hanging from the ceiling), the tuxedoed & feathered cast performs "Henrietta," the saga of a hapless, happy hen. "A hen is the egg's way of making another egg," says one character, energetically whipping eggwhites. "And what makes a good egg? A good hen."
One could be critical and complain that it's all a bit self-conscious and pretentious, but that would miss the point. This is about self-conscious and pretentious attitudes toward food and drink. (Just look at this pompous website.) Podgorski was the only non-performing member of the old Circus Contraption troupe; his wife, Kari, was one of the troupe's trapeze artists (sorry, aerialists). A young woman named Annastasia Workman does double duty on piano and accordion to provide an appropriate and most welcome musical atmosphere while the cast lays an unending series of egg jokes, chicken jokes, "drunken" monologues and heartfelt tributes to Henretta.
You shouldn't come to Cafe Nordo expecting haute cuisine, but it does rise to the level of good, neighborhood bistro fare. There's an opening shot of pureed parsley, followed by a poached egg in a basket of shredded parmesan, then a dumpling in chicken broth (poured with aplomb from watering cans) before Henrietta herself arrives, fork-tender, stuffed with cheese and roasted peppers. Along the way, you're treated to several glasses of decent wine (Blanquette de Limoux, a riesling from Parejas Cellars, red from Stella Fino). There's a caterer in the back somewhere, using a kitchen attached to Theo's, one assumes, but every member of the staff, in full character, insists that it's really "Chef Nordo." Says Erin Brindley, managing director of the old Circus and co-producer of Nordo, "It's a restaurant until proven theater." Works for me.
Cafe Nordo presents The Modern American Chicken, 3400 N. Phinney N, 206-790-5166. Dinner performances at 7 PM, Thurs, Fri & Sat through November 21. $85. Reservations through Brown Paper Tickets
Posted by Ronald Holden at October 15, 2009 3:00 PM | TrackBack

Recent Entries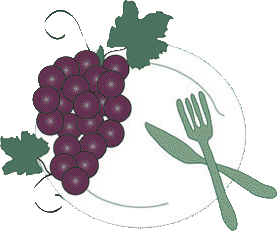 The International Kitchen
Cooking school vacations in Italy, France & Spain.
Archives
Links
The International Vineyard
, a new way to learn about wine in France, Italy and Spain: three-night programs for wine lovers in less-traveled regions.
The International Kitchen
, the leading source for culinary vacations in France and Italy.
French Word-A-Day
, fascinating lessons about language and daily life in Provence
Belltown Messenger
, chronicle of a Seattle neighborhood's denizens, derelicts, clubs, bars & eateries. Restaurant reviews by Cornichon.
Small Screen Network
, where food & drink celebrities like
Robert Hess
have recorded terrific videos.
French Chef Sally
is my friend Sally McArthur, who hosts luxurious, week-long cooking classes at the Chateau du Riveau in the Loire Valley.
Local Wine Events.com
, the worlds leading Food and Wine tasting calendar. Spirits and Beer events as well. Post your own event or sign up to be notified when new events are po sted to your own area.
VinoLover
, Seattle wine promoter David LeClaire's bulletin board of tastings, dinners and special events.
Wine Educator
Dieter Schafer
maintains a full schedule of Seattle-area tastings and seminars for amateur wine drinkers and professional alike.
Nat Decants
, a free wine e-newsletter from Natalie MacLean, recently named the World's Best Drink Writer at the World Food Media Awards in Australia. Wine picks, articles and humor; no ads.

More blogs about
food wine travel
.
Who links to me?