The Rowley Chronicles: Shaw's Crab House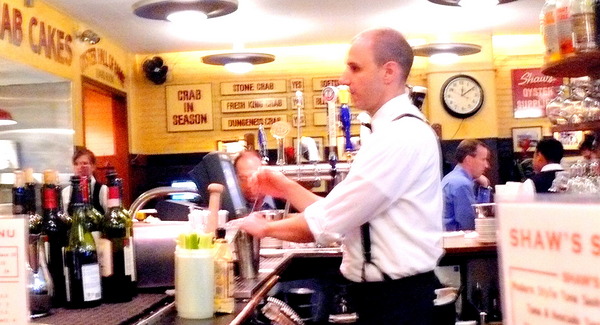 From the street, Shaw's Crab House looks unassuming: an awning on a cross street just north of Chicago's Loop. Inside, it's two spots: a formal fish house, and an informal oyster bar. Turns out, it's part of the Lettuce Entertain You conglomerate (Maggiano's Little Italy in Bellevue is, so far, the only example in the Seattle area). The oyster bar is clearly where it's happening.
Barman Josh Keeseker and oysterman Luis Tedroza supply a sampler of virginicas from three of the country's best sources: Totten Inlet in the South Sound between Olympia and Shelton, Fishers Island on Long Island Sound, and Naragansetts from Rhode Island. Rhode Island is sweet, New York is salty and smooth, Totten Inlet is the best of both.
Regular readers will recall that we've seen the Totten Inlets before. They were named best-tasting virignica oysters in the country last year (by an east coast panel, yet), and are regularly promoted by Seattle's oyster guru Jon Rowley.
Shaw's, grateful for Jon's services on behalf of the bivalves, named him to its oyster honor roll and put his portrait in their board room. There's more coming about Jon later this week, by the way.
Shaw's Crab House, 21 E. Hubbard, Chicago 312-527-2722
Oyster Bar menu at Shaw's, sampler of virginica oysters, Jon Rowley's portrait
Posted by Ronald Holden at October 29, 2008 12:01 AM | TrackBack

Recent Entries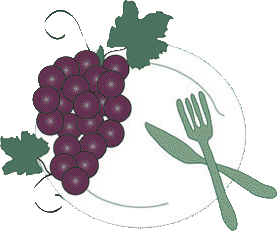 The International Kitchen
Cooking school vacations in Italy, France & Spain.
Archives
Links
The International Vineyard
, a new way to learn about wine in France, Italy and Spain: three-night programs for wine lovers in less-traveled regions.
The International Kitchen
, the leading source for culinary vacations in France and Italy.
French Word-A-Day
, fascinating lessons about language and daily life in Provence
Belltown Messenger
, chronicle of a Seattle neighborhood's denizens, derelicts, clubs, bars & eateries. Restaurant reviews by Cornichon.
Small Screen Network
, where food & drink celebrities like
Robert Hess
have recorded terrific videos.
French Chef Sally
is my friend Sally McArthur, who hosts luxurious, week-long cooking classes at the Chateau du Riveau in the Loire Valley.
Local Wine Events.com
, the worlds leading Food and Wine tasting calendar. Spirits and Beer events as well. Post your own event or sign up to be notified when new events are po sted to your own area.
VinoLover
, Seattle wine promoter David LeClaire's bulletin board of tastings, dinners and special events.
Wine Educator
Dieter Schafer
maintains a full schedule of Seattle-area tastings and seminars for amateur wine drinkers and professional alike.
Nat Decants
, a free wine e-newsletter from Natalie MacLean, recently named the World's Best Drink Writer at the World Food Media Awards in Australia. Wine picks, articles and humor; no ads.

More blogs about
food wine travel
.
Who links to me?