Breakfast, Lunch & Box Dinner from Urban Cafe
Toronto-born corporate chef Bruce Pinkerton came to Seattle some 20 years ago to help open a hotel, since bulldozed. He stayed on, though, and launched the concept of Designed Dinners, a food preparation center and take-out kitchen. The meal-assembly "industry" continues to grow nationally; Pinkerton's business expanded to several locations, most recently at 2nd and Denny in Belltown, and he added Urban Wine Cafe earlier this year.
Then opportunity really knocked. The caf&eacute in the complex of high-tech buildings along Elliott Avenue (F5, Classsmates.com, Clear Channel), a barebones corporate lunchroom, came up for lease. Over 2,000 employees had nowhere else to eat. Pinkerton and his crew transformed the space in just eight days and managed to open the handsome, new Urban Cafe on 09 09 09.
There's seating in the pastel-green café for about 30; the menu begins with breakfast, and moves on to soups, do-it-yourself salads, sandwiches and specials (displayed on a hi-def TV screen) like chicken breasts or pork chops. Pinkerton will also cater the various in-house events, and use the café's generously sized kitchen (and new, walk-in freezer) to produce his Designed Dinners. Is it gourmet cuisine? No, of course not, although our cumin-scented, pulled-pork panino on ciabata was clearly a notch (or two or three) above standard lunch counter fare. Pinkerton's customers, whether eat-in or take-out, don't want surprises, they want balance, reassurance and comfort: the essence of food.
Urban Café, 351 Eliott Ave. W., Seattle 206-282-0568
Posted by Ronald Holden at September 10, 2009 9:30 AM | TrackBack

Recent Entries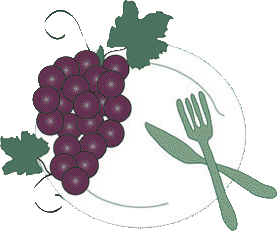 The International Kitchen
Cooking school vacations in Italy, France & Spain.
Archives
Links
The International Vineyard
, a new way to learn about wine in France, Italy and Spain: three-night programs for wine lovers in less-traveled regions.
The International Kitchen
, the leading source for culinary vacations in France and Italy.
French Word-A-Day
, fascinating lessons about language and daily life in Provence
Belltown Messenger
, chronicle of a Seattle neighborhood's denizens, derelicts, clubs, bars & eateries. Restaurant reviews by Cornichon.
Small Screen Network
, where food & drink celebrities like
Robert Hess
have recorded terrific videos.
French Chef Sally
is my friend Sally McArthur, who hosts luxurious, week-long cooking classes at the Chateau du Riveau in the Loire Valley.
Local Wine Events.com
, the worlds leading Food and Wine tasting calendar. Spirits and Beer events as well. Post your own event or sign up to be notified when new events are po sted to your own area.
VinoLover
, Seattle wine promoter David LeClaire's bulletin board of tastings, dinners and special events.
Wine Educator
Dieter Schafer
maintains a full schedule of Seattle-area tastings and seminars for amateur wine drinkers and professional alike.
Nat Decants
, a free wine e-newsletter from Natalie MacLean, recently named the World's Best Drink Writer at the World Food Media Awards in Australia. Wine picks, articles and humor; no ads.

More blogs about
food wine travel
.
Who links to me?