Vashon Island: Old, New, and Ever So Slightly Weird
"Keep Vashon Weird," says the bumper sticker. A ferry ride from Fauntleroy at sunset, a long line of cars heading south behind a Metro bus. "It's an island, man. Nobody's in a hurry," says the gent stepping off a bright blue Harley in the town of Vashon, a single blinking stoplight, half a dozen gift shops, half a dozen taverns and two hardware stores. (One's a True Value, the other's actually a restaurant.) By necessity, Vashon's 10,000 islanders are tolerant and patient.
"Keep Vashon Weird" could be the motto for The Gusto Girls, a bumptious café in a modest storefront. Chef is Jessica DeWire, who teamed up with her catering partner Kristin Baron and opened the doors two years ago. Sundays she serves four-course, prix fixe dinners. The Manhattan ($32) is escargots and petite filet, the Seattle ($29) is oysters and salmon, the Vashon ($22) is mushrooms and mac & cheese, all with salad and dessert, matching wine flights another ten bucks or so. Sit at a table, sit on the couch, sit at the bar, everyone's welcome.
Gusto Girls, 17629 Vashon Hwy SW, Vashon Island, 206-463-6626
Another face of island culture: the artisan farmer. George Pope and his wife Kristin have operated Sea Breeze Farm since 2000, selling everything from duck eggs to wine to pork chops at farmers markets around Seattle on weekends, and out of their own home at all hours. Now they've opened a genuine retail outlet and sit-down diner called La Boucherie. Braised lamb neck with whole wheat polenta for lunch, goat rib chops or a five-course tasting menu ($65) for dinner. Pope makes his own wine, too, Sweetbread Cellars, from "overseas" grapes, earnest efforts. La Boucherie sells meat from the farm as well, exquisite and very pricey ($28 a pound for lamb chops, $12 for top round, $13 for pork chops). Duck eggs are $10 a dozen, raw milk $5 a quart. George takes excellent care of his animals, in life as in death, and that's just the price you pay, period. Weird, huh? Or maybe it's the face of the future. If you've read Michael Pollan and admired his description of Joel Salatin's Polyface Farms in the Shenandoah Valley, you'll understand. The good news is that you don't have to go all the way to the east coast to find food that's produced in harmony with the land; you just have to find the dock at Fauntleroy.
La Boucherie, 17635 100th Ave SW, Vashon Island, 206-567-GOAT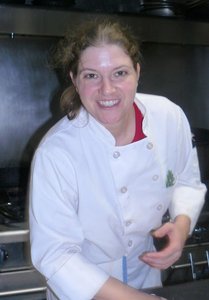 Gusto Girls chef Jessica DeWire; meats in the display case at La Boucherie.
Posted by Ronald Holden at November 16, 2008 3:00 PM | TrackBack

Recent Entries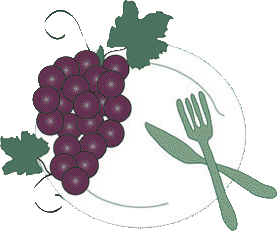 The International Kitchen
Cooking school vacations in Italy, France & Spain.
Archives
Links
The International Vineyard
, a new way to learn about wine in France, Italy and Spain: three-night programs for wine lovers in less-traveled regions.
The International Kitchen
, the leading source for culinary vacations in France and Italy.
French Word-A-Day
, fascinating lessons about language and daily life in Provence
Belltown Messenger
, chronicle of a Seattle neighborhood's denizens, derelicts, clubs, bars & eateries. Restaurant reviews by Cornichon.
Small Screen Network
, where food & drink celebrities like
Robert Hess
have recorded terrific videos.
French Chef Sally
is my friend Sally McArthur, who hosts luxurious, week-long cooking classes at the Chateau du Riveau in the Loire Valley.
Local Wine Events.com
, the worlds leading Food and Wine tasting calendar. Spirits and Beer events as well. Post your own event or sign up to be notified when new events are po sted to your own area.
VinoLover
, Seattle wine promoter David LeClaire's bulletin board of tastings, dinners and special events.
Wine Educator
Dieter Schafer
maintains a full schedule of Seattle-area tastings and seminars for amateur wine drinkers and professional alike.
Nat Decants
, a free wine e-newsletter from Natalie MacLean, recently named the World's Best Drink Writer at the World Food Media Awards in Australia. Wine picks, articles and humor; no ads.

More blogs about
food wine travel
.
Who links to me?