Where to Lay My Weary Head?
Stand at the corner of First and Pike, and you almost hear the thunder of Seattle's hotel wars, the howitzers of the future as they battle for attention in the trades, the travel mags, the lifestyle glossies.
First into battle: a new Four Seasons, across the street from the downtown Art Museum: 21 stories, 149 hotel rooms, 36 residential condos, opening 2008. If your memory goes back more than two years, you'll recall that Four Seasons once owned the Olympic; now they're building their own, putting huge marketing efforts into the condo side of the equation. (Lease Crutcher Lewis, the general contractor, has a nifty webcam of the construction site.) Though the Four Seasons is at Ground Zero of Seattle's dining scene, they're nonetheless planning a water-view restaurant, no name or chef announced.
Next, a new concept from Starwood: 23 stories at 2nd and Steward, 176 "city suites" (guest rooms) and 51 condo residences for the first-in-a-series of "green" projects called 1 Hotel. Opening in 2009. Starwood's owner, Barry Sternlicht, was in town last week to promote its eco-friendly credentials. New York restaurateur Stephen Hanson (17 stores, including Ruby Foo's, Atlantic Grill, Isabella's, Primehouse) came along to outline plans for a "chef-driven" operation here. Hanson was named Bon Appetit's Restaurateur of the Year a couple of years ago, so he ought to know what works. Watch for a seafood-related name.
Meantime, let's not forget the Candela, a 36-story project just up the street at Second & Pike. Plans call for 150 guest rooms, 90 condo units, and, of course, a restaurant, opening in 2009. Company founder is local boy and venture capitalist Tim Piggott (the PACCAR family), who plans a chain of Candelas around the world catering to luxury travelers.
And when it gets really quiet, listen for echoes from across the lake: in Kirkland, a new Heathman is about to open. Beloved in Portland, where it's home to James Beard-winning chef Philippe Boulout, Heathman joins migrating Portlanders McCormick & Schmick in expanding from Rose to Emerald cities. Ninety-one guest rooms + restaurant (Trellis), headed by veteran Brian Scheehser. Instead of an invite to the opening, someone at the hotel emailed a PDF of recent bills. Oops! Shoulda been this.
How else but from the shell casings of the hotel howitzers will the editors of travel mags determine what to cover, how else will the trendsetters learn where they want to live? How indeed will clueless travel agents figure out where to send their sheep? How else will Seattle maintain its status as an enviable place to visit, a desirable place to live?
Posted by Ronald Holden at October 5, 2007 1:37 PM

Recent Entries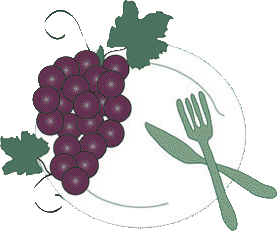 The International Kitchen
Cooking school vacations in Italy, France & Spain.
Archives
Links
The International Vineyard
, a new way to learn about wine in France, Italy and Spain: three-night programs for wine lovers in less-traveled regions.
The International Kitchen
, the leading source for culinary vacations in France and Italy.
French Word-A-Day
, fascinating lessons about language and daily life in Provence
Belltown Messenger
, chronicle of a Seattle neighborhood's denizens, derelicts, clubs, bars & eateries. Restaurant reviews by Cornichon.
Small Screen Network
, where food & drink celebrities like
Robert Hess
have recorded terrific videos.
French Chef Sally
is my friend Sally McArthur, who hosts luxurious, week-long cooking classes at the Chateau du Riveau in the Loire Valley.
Local Wine Events.com
, the worlds leading Food and Wine tasting calendar. Spirits and Beer events as well. Post your own event or sign up to be notified when new events are po sted to your own area.
VinoLover
, Seattle wine promoter David LeClaire's bulletin board of tastings, dinners and special events.
Wine Educator
Dieter Schafer
maintains a full schedule of Seattle-area tastings and seminars for amateur wine drinkers and professional alike.
Nat Decants
, a free wine e-newsletter from Natalie MacLean, recently named the World's Best Drink Writer at the World Food Media Awards in Australia. Wine picks, articles and humor; no ads.

More blogs about
food wine travel
.
Who links to me?