Robert Service: Bard & Banker
He's known as the Bard of the Yukon, born in England in 1874, raised in Scotland, an adventurer named Robert Service who traveled up and down the west coast of North America. His gift for spontaneous rhyme would bring him fame and fortune (as it did to England's Rudyard Kipling, Australia's Banjo Patterson and America's Ernest Thayer, to name a few). A true "people's poet," Service had apprenticed as a banker in Glascow, and would support himself as a teller for the Canadian Bank of Commerce in Whitehorse and in Victoria, often sleeping (shotgun at the ready) above the vault.
He saw more than his share of violence and misery (all of which he turned into verse) but he was also under "The Spell of the Yukon"
It's the great, big, broad land 'way up yonder,
It's the forests where silence has lease;
It's the beauty that thrills me with wonder,
It's the stillness that fills me with peace.
Today, the Victoria branch of the now-defunct CBC has morphed from one of those year-round Christmas stores into a sparkling, 320-seat gastropub named in Service's honor, the
Bard & Banker
. It's one of 13 pubs owned by Matt MacNeil's
Victoria Pub Company
, which also includes Island favorites Irish Times and Penny Farthing.
As befits a former bank, there's plenty of marble and brass here; as befits a pub, 30 beers on tap, dozens of single malts behind the bar, live music nightly and free wi-fi.
What's less expected is B&B's commitment to local fare, first with a "Two-Mile Diet" of local breweries, then a "What's in Season?" list of the freshest ingredients (this week: chanterelles, cabbage, cranberries, pumpkins, squash). GM Mike Boyle enjoys pairing the dishes with local beers; we were impressed by the Herrmann's Dark Lager with spicy peppered albacore and Stanley Park ale with a plate of chanterelles and pasta. Exec Chef Richard Luttman recognizes that sophisticated travelers want to eat "iindigenous" food, although he does make an exception for lemons.
"With any good pub, there has to be a story," says Moore. And Service's story was a good one indeed. He survived the Yukon and two World Wars, married and retired to a village in Brittany, where he died, in 1958, at the age of 87.
Bard & Banker, 1022 Government Street, Victoria, BC, 250-953-9993
Posted by Ronald Holden at November 25, 2009 11:11 AM | TrackBack

Recent Entries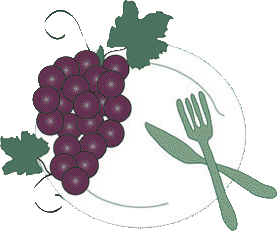 The International Kitchen
Cooking school vacations in Italy, France & Spain.
Archives
Links
The International Vineyard
, a new way to learn about wine in France, Italy and Spain: three-night programs for wine lovers in less-traveled regions.
The International Kitchen
, the leading source for culinary vacations in France and Italy.
French Word-A-Day
, fascinating lessons about language and daily life in Provence
Belltown Messenger
, chronicle of a Seattle neighborhood's denizens, derelicts, clubs, bars & eateries. Restaurant reviews by Cornichon.
Small Screen Network
, where food & drink celebrities like
Robert Hess
have recorded terrific videos.
French Chef Sally
is my friend Sally McArthur, who hosts luxurious, week-long cooking classes at the Chateau du Riveau in the Loire Valley.
Local Wine Events.com
, the worlds leading Food and Wine tasting calendar. Spirits and Beer events as well. Post your own event or sign up to be notified when new events are po sted to your own area.
VinoLover
, Seattle wine promoter David LeClaire's bulletin board of tastings, dinners and special events.
Wine Educator
Dieter Schafer
maintains a full schedule of Seattle-area tastings and seminars for amateur wine drinkers and professional alike.
Nat Decants
, a free wine e-newsletter from Natalie MacLean, recently named the World's Best Drink Writer at the World Food Media Awards in Australia. Wine picks, articles and humor; no ads.

More blogs about
food wine travel
.
Who links to me?