No Comedy Tonight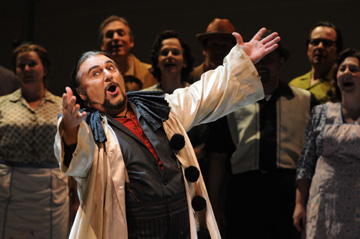 Picture a small town in the south (southern Italy in the 1950s, as it happens) where people talk slow and not much happens until the sun goes down and the church bells ring. (Think Faulkner, Song of the South, Porgy and Bess.) Then a travelling circus comes to town, a whole troupe of clowns (those irrespressible pagliacci), squeezed into a real clown car, a tiny black Fiat 500. You can guess what happens next: sex, jealousy, violence and death.
We're going to hear the exciting Gold Cast at the end of the run, with superstar tenor Antonello Palombi as Pagliacci, the divine Nuccia Focile as Nedda and Gordon Hawkins (a standout last year in the title role of Macbeth as Tonio.
This weekend, with conductor Dean Williamson leading a talented Silver Cast, the smoothest singing came from Morgan Smith, who had impressed us in the title role of Don Giovanni last year. He makes a convincing hunk as Silvio, the local pretty-boy who catches Nedda's eye.
The lecherous Tonio, whose advances Nedda spurns, overhears the two lovers planning to run away together and reports the news to Canio, knowing that Canio's jealousy will provoke disaster. As he suits up for the play (singing Vesti la giubba, whose recording by Caruso became the first opera disc to sell a million copies), Canio expresses the clown's classic anguish: to make people laugh even as his own heart is breaking.
By the time the curtain falls, on the line (spoken by Tonio in this production), La commedia è finita, Canio is a mental wreck, having stabbed both Nedda and Silvio. Show's over, folks. Wasn't a comedy at all.
One reservation, the schtick with the acrobats (imported from California for the dream sequence at the opening of the second half of the show): no disrespect, but we think our home-grown Circus Contraption does that stuff better.
Seattle Opera presents Pagliacci at McCaw Hall, through Jan. 26. Tickets online or 206-389-7676.
Seattle Opera photo by Rosarii Lynch
Posted by Ronald Holden at January 14, 2008 10:53 AM | TrackBack

Recent Entries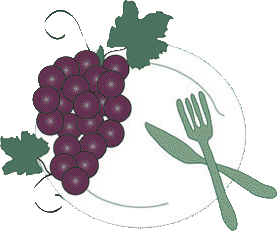 The International Kitchen
Cooking school vacations in Italy, France & Spain.
Archives
Links
The International Vineyard
, a new way to learn about wine in France, Italy and Spain: three-night programs for wine lovers in less-traveled regions.
The International Kitchen
, the leading source for culinary vacations in France and Italy.
French Word-A-Day
, fascinating lessons about language and daily life in Provence
Belltown Messenger
, chronicle of a Seattle neighborhood's denizens, derelicts, clubs, bars & eateries. Restaurant reviews by Cornichon.
Small Screen Network
, where food & drink celebrities like
Robert Hess
have recorded terrific videos.
French Chef Sally
is my friend Sally McArthur, who hosts luxurious, week-long cooking classes at the Chateau du Riveau in the Loire Valley.
Local Wine Events.com
, the worlds leading Food and Wine tasting calendar. Spirits and Beer events as well. Post your own event or sign up to be notified when new events are po sted to your own area.
VinoLover
, Seattle wine promoter David LeClaire's bulletin board of tastings, dinners and special events.
Wine Educator
Dieter Schafer
maintains a full schedule of Seattle-area tastings and seminars for amateur wine drinkers and professional alike.
Nat Decants
, a free wine e-newsletter from Natalie MacLean, recently named the World's Best Drink Writer at the World Food Media Awards in Australia. Wine picks, articles and humor; no ads.

More blogs about
food wine travel
.
Who links to me?