Italian Character, Italian Characters
BERTINORO, Italy--We're at the eastern end of the vineyards of Emilia-Romagna.The village itself is medieval, with a castle that houses, of all things, an interfaith museum. Its exhibits are devoted to the world's three great monothestic religions and reconciles Jewish, Christian and Islamic teachings.
Below the walls lies a spanking new winery, Campo del Sole, a huge investment by the Isoldi family. Their wine maker, Stefano Salvini, has worked all over the world, including stints at Mondavi and Sebastiani; he's got a consulting gig right now in Georgia. Their vineyards are immaculate, their ambitions high. Modern techniques, clean-finishing wines, not a bad one among them. There's a budget for marketing; Campo del Sole's bringing its road show to Seattle in February.
Higher on the hill, Fattoria Paradiso's been around since the 15th century. Graziella Prezzi has taken over from her father, who brought the winery back to prominence. She's a political powerhouse and former president of Italy's Women In Wine. Mario Batali shot an episode of his TV show here. She's got traditional wines from sangiovese and albana, new styles ("concept wines") and unique wines, best of all being barbarosso, a long-lived red variety. Danny Kaye was particularly taken with it. Graziella's beloved dog, Peti Trufi, is a foundling.
Bertinoro has a long tradition of hospitality. Local families would fight for the privilege of welcoming strangers, finally building a column festooned with "anonymous" rings. Upon tying up, travelers would be hosted by the family whose ring they were using. The mayor, Nevio Zaccarelli, tracked us down on the square and presented us with a replica of Bertinoro's famous hitching post.
Top: Graziella Prezzi and her dog, with bottle of Barbarossa in background. Side: Stefano Salvini. Below: Bertinoro hillside, mayor Nevio Zaccarelli, doorway detail of interfaith museum.
Posted by Ronald Holden at October 14, 2008 3:27 PM | TrackBack

Recent Entries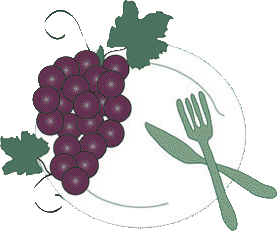 The International Kitchen
Cooking school vacations in Italy, France & Spain.
Archives
Links
The International Vineyard
, a new way to learn about wine in France, Italy and Spain: three-night programs for wine lovers in less-traveled regions.
The International Kitchen
, the leading source for culinary vacations in France and Italy.
French Word-A-Day
, fascinating lessons about language and daily life in Provence
Belltown Messenger
, chronicle of a Seattle neighborhood's denizens, derelicts, clubs, bars & eateries. Restaurant reviews by Cornichon.
Small Screen Network
, where food & drink celebrities like
Robert Hess
have recorded terrific videos.
French Chef Sally
is my friend Sally McArthur, who hosts luxurious, week-long cooking classes at the Chateau du Riveau in the Loire Valley.
Local Wine Events.com
, the worlds leading Food and Wine tasting calendar. Spirits and Beer events as well. Post your own event or sign up to be notified when new events are po sted to your own area.
VinoLover
, Seattle wine promoter David LeClaire's bulletin board of tastings, dinners and special events.
Wine Educator
Dieter Schafer
maintains a full schedule of Seattle-area tastings and seminars for amateur wine drinkers and professional alike.
Nat Decants
, a free wine e-newsletter from Natalie MacLean, recently named the World's Best Drink Writer at the World Food Media Awards in Australia. Wine picks, articles and humor; no ads.

More blogs about
food wine travel
.
Who links to me?