West Seattle Bohemians
Travelers, take note. West Seattle, an isolated neighborhood separated from Seattle by the Duwamish River, is actually home to some 60,000 people--twice as many inhabitants as Walla Walla. You get there by crossing Harbor Island, and once you're there, not 15 minutes from downtown Seattle, you'll find it has just about everything: a scrappy neighborhood blog, a crappy official website, a midsummer festival, a community newspaper, a farmers market, a twin-screen movie theater, several attractive parks and popular beaches, and a growing number of restaurants (over 150, by one count, including three sushi parlors and a couple of wine bars).
The newest spot finally opened last night, some six months behind schedule. It's called Bohemian, a venture by two brothers, Jason (chef) and Eirk (bar) Rice (along with their mom, Teri). They'll open at 7 for coffee, switch to happy hour from 3:30 to 6, dinner until 10, late-night until 2 on weekends, plus brunch on Sunday.
First martinis ($6) include a "classic" with Plymouth gin with three olives. The lucid elixir ($10) is flavored with Canada's Lucid absinthe, 62 percent alcohol, tastes like licorice. Among the happy hour snacks: a garlicky black olive tapenade paired with a white bean purée ($8) and a sampler of cured meats and artisan cheeses ($16 for a large platter).
One of Bohemian's specialties will be raclette, an alpine mountain dish of melted and scraped cheese. Click here to read Cornichon's post about raclette, "Back when cows were cows and men were men....") Bohemian's raclette is an upside-down version. The cornichons, capers and potatoes are cut up, placed in the bottom of a cast-iron pan, covered with raclette (and gruyère) and broiled. A small portion is $10, a large, $18. A bit fussy, if you ask me.
Dinner choices are more traditional: beef tenderloin, lamb "lollie chops", meat balls, scallops or a vegetarian cassoulet. All available in single-serving or share-platter size, however, so mixing and matching should be easy. Bohemian's décor, in a small, free-standing building, is one part Black Bottle hand-crafted minimalism, one part Pink Door over-the-top artsy. The Rice brothers have planned a full schedule of live music as well. Their intention, as they wrote to the editors of the West Seattle blog:
In the evening we will be creating our own eclectic, globally influenced fare with ingredients, techniques, and flavors from many bohemian cultures around the world; as well, our own versions of Americana comfort foods with a twist.
And if you're in the mood for even more central European
Gemütlichkeit
, Chris Navarro (of
Prost
,
Feierabend
and
BierStube
) is opening a second Prost next door to Bohemian by the end of the year.
Add to the mix the French-Italian Beàto a few blocks north, east-facing Salty's and west-facing La Rustica down on the water, and you'll be able to fit in as many exotic meals in West Seattle as could in a weekend journey to Walla Walla, and you won't need to spend $100 on gas to get there, either.
Bohemian, 3405 California Ave. S.W., 206-938-2646 ("BOHO")
Posted by Ronald Holden at September 16, 2008 8:38 AM | TrackBack

Recent Entries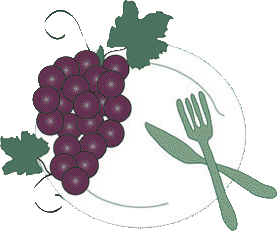 The International Kitchen
Cooking school vacations in Italy, France & Spain.
Archives
Links
The International Vineyard
, a new way to learn about wine in France, Italy and Spain: three-night programs for wine lovers in less-traveled regions.
The International Kitchen
, the leading source for culinary vacations in France and Italy.
French Word-A-Day
, fascinating lessons about language and daily life in Provence
Belltown Messenger
, chronicle of a Seattle neighborhood's denizens, derelicts, clubs, bars & eateries. Restaurant reviews by Cornichon.
Small Screen Network
, where food & drink celebrities like
Robert Hess
have recorded terrific videos.
French Chef Sally
is my friend Sally McArthur, who hosts luxurious, week-long cooking classes at the Chateau du Riveau in the Loire Valley.
Local Wine Events.com
, the worlds leading Food and Wine tasting calendar. Spirits and Beer events as well. Post your own event or sign up to be notified when new events are po sted to your own area.
VinoLover
, Seattle wine promoter David LeClaire's bulletin board of tastings, dinners and special events.
Wine Educator
Dieter Schafer
maintains a full schedule of Seattle-area tastings and seminars for amateur wine drinkers and professional alike.
Nat Decants
, a free wine e-newsletter from Natalie MacLean, recently named the World's Best Drink Writer at the World Food Media Awards in Australia. Wine picks, articles and humor; no ads.

More blogs about
food wine travel
.
Who links to me?