Italian Wine Country Hosts
This is the final post from Italy. Next stop: Provence!
My tour of Emilia-Romagna has taken me to more than a dozen wineries where I've encountered many wonderful people, tasted over 100 interesting wines, eaten fabulous meals and visited some of the world's most beautiful villages. Have now chronicled these events over the past couple of weeks, attempting to combine personal experiences with something of a global (rather than purely local) perspective on the wines. In addition to the hosts, wineries and restaurants already mentioned, I'd be remiss to omit the following.
At Montesissa in the hills above Piacenza, young Nicola Montesissa showed off the bins of recently harvested grapes destined for passito.
Lodovica Lusenti's winery in the Colli Piacentini avoids mainstream techniques. Her deep gold 2002 malvasia, partially aged in oak, was perfectly dry; her 2006 bonarda passito pruney and port-like. She's a bit of a rebel, but true to her own vision.
Two brothers at La Tosa: short, lively, generous Stefano Pizzamiglio is in charge of wine making (and hospitality). His tall, taciturn brother Ferruccio handles administration. A fine example of Gutturnio here (barbera-bonarda blend), and an elegant cabernet sauvignon with 18 months of barrel aging. The usual assortment of cold cuts (pancetta, salami, prosciutto, coppa), three kinds of quiche (potato-onion, spinach, vegetarian) and a big chunk of Grana Padana cheese. Sigh.
At Monte delle Vigne, veteran wine grower Andrea Ferrari took us on a long walk through the vineyards and poured his best wine, a barbera blend named for Verdi's famous opera, Nabucco. It's relegated to IGT status because it contains about 30% merlot, thus ineligible for the more prestigious DOC.
La Stoppa's wine maker, the dynamic Elena Pantaleoni, had just left on a sales trip to South America. The harvest was winding down; a couple of women were still sorting the ripest grapes for passito.
Umberto Cesari winery, one of many we visited in Emilia-Romagna, features a charismatic owner and a contented workforce (on lunch break when we stopped by).
Finally, though hardly least, Matteo Marenghi, wine expert for Emilia's hills, co-author of definitive varietal studies, married to an Englishwoman who runs a language school in Piacenza. (We've already described his counterpart for Romagna, Andrea Spada.) And my two "minders," marketing and media expert Marta Geri (of the multi-tentacled Ph5 Group advertising & PR agency) and freelance translator Elena Scheda. Sincere thanks and heartfelt gratitude, mille grazie, to all.
Posted by Ronald Holden at October 20, 2008 12:01 PM | TrackBack

Recent Entries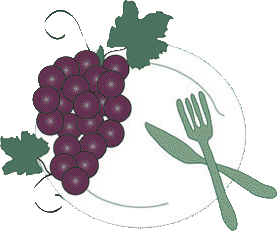 The International Kitchen
Cooking school vacations in Italy, France & Spain.
Archives
Links
The International Vineyard
, a new way to learn about wine in France, Italy and Spain: three-night programs for wine lovers in less-traveled regions.
The International Kitchen
, the leading source for culinary vacations in France and Italy.
French Word-A-Day
, fascinating lessons about language and daily life in Provence
Belltown Messenger
, chronicle of a Seattle neighborhood's denizens, derelicts, clubs, bars & eateries. Restaurant reviews by Cornichon.
Small Screen Network
, where food & drink celebrities like
Robert Hess
have recorded terrific videos.
French Chef Sally
is my friend Sally McArthur, who hosts luxurious, week-long cooking classes at the Chateau du Riveau in the Loire Valley.
Local Wine Events.com
, the worlds leading Food and Wine tasting calendar. Spirits and Beer events as well. Post your own event or sign up to be notified when new events are po sted to your own area.
VinoLover
, Seattle wine promoter David LeClaire's bulletin board of tastings, dinners and special events.
Wine Educator
Dieter Schafer
maintains a full schedule of Seattle-area tastings and seminars for amateur wine drinkers and professional alike.
Nat Decants
, a free wine e-newsletter from Natalie MacLean, recently named the World's Best Drink Writer at the World Food Media Awards in Australia. Wine picks, articles and humor; no ads.

More blogs about
food wine travel
.
Who links to me?