IWFS Inaugural Dinner
Seattle is now officially the newest branch of the International Wine & Food Society!



The inaugural dinner was held at The Rainier Club over the last week in January; click here for a peek at all the photos.
The impetus for the event came from Sherry Knott, a member of the IWFS's Board of Governors for the Americas, who remitted the organization's provisional charter to Michael de Maar, whom she'd enlisted to serve as branch president.
In turn, Michael had volunteered The Rainier Club as the venue, and program chair Jan Stimach had worked out the menu with the club's energetic and creative executive chef, Bill Morris.
The menu was fantastic !

Perrier Jouet champagne accompanied passed hors d'oeuvres: A lobster-avocado-mango salad with citrus gelée and sturgeon caviar; medjool dates with goat cheese and macarona almond slivers; an Autralian prawn wonton with basil, pineapple and daikon; "spoons" of pacific oysters with apple radish and bacon; and strawberry & black pepper tuiles with sheep's cheese.
We sat down at beautifully decorated tables of six to five more splendid courses, each accompanied by a distinct wine.
First, a pavé of seared ahi tuna, served on a compote of persimmons and preserved ginger and a citrus-lobster reduction. This was accompanied by a 1997 Chablis grand cru Valmur from the house of Christian Moreau. The tuna was exquisite, perfectly cooked and flavorful, shining like a star above the far more modest talents of the chablis.
Now we moved from a star turn to a finely tuned ensemble. Chef Morris presented the dish as cappuccino of truffled wild mushroom ... mushroom soup, in other words. And mushroom it was, a cup of frothy cream with the earthy, woodsy flavors of black trumpets. But that was just the beginning. To offset the creaminess in the cup, Chef Morris added two elements on the plate: a crunchy biscotti of toasted hazelnuts, and an unctuous salad of duck confit, offset with slices of pear and a drizzle of balsamic vinegar. The dazzling effect was enhanced by one of the great white Burgundies, a 2001 Corton Charlemagne grand cru from Vincent Girardin's production. Sorry that my picture doesn't do this justice ...
The next dish was a puzzle, frankly, until one of the gentlemen at my table said, "It's linear." And indeed it was: it even looked linear, like a train on its tracks. The rails were a salsify purée. The gravel bed was a lentil medly. And the "train," as it were, consisted of a pan-seared sea scallop [as engine], a braised short rib [as the coal car, perhaps] bearing a load of seared foie gras with shreds of butternut squash [as sparks?]. No symphony here, it was a succession of solos, to be devoured in linear sequence.
To accompany the dish, Michael Etzell of Beaux-Frères Winery in Oregon brought out his 2001 pinot noir, a lovely wine whose versatility contributed to all the elements of the dish.
A quick palate cleanser of peppered quince gelée, then onto the next course: a loin of lamb enrusted with coffee [a technique that complements the sweet caramelization with the aromatic bitterness of coffee], along with caramelized garlic, maple cap mushrooms, organic carrots and an essence of Douglas fir. Is this last element really necessary ? Ask a skier who's sucking on a snowball scooped from a tree branch: would it be the same if it were snow from a chestnut tree ?
With this course, which photographed like nothing on earth, we drank the best wine of the evening, a 1982 Chateau Gruaud Larose from St. Estèphe. The wine had great depth and presence, yet an unexpected subtlety and delicacy ... and a lovely perfume of rosewater that became apparent when a half-glass of its sibling, the 1982 Chateau Talbot, appeared at the table. The Talbot was every bit the righteous older brother, stern, unforgiving, and the Gruaud Larose the shy, demure sister ... demure, at least, until her brother went off to war [or wherever] and she became at last her own sensual being. Shades of Faust ! You could almost hear the Talbot singing "Avant de quitter ces lieux... " The Gruaud Larose, perfumed & lovely, inspires lovers.

One more wine: a spectular 1977 Graham's Port. The vintage-dated ports of the late 1970s were exceptional ... not just icky-sweet wines dropped onto the market whenever it suited the producers, but real wines with the capacity to mature and evolve like Burgundies and Bordeaux. It accompanied a complex dessert of bitter-sweet chocolate praline mousse and a "short stack" of caramelized apples with hazelnut-espresso ice cream.

All that remained was for Alex Golitzin of Quilceda Creek winery to toast his colleague from Oregon and acknowledge that it was a night that will long be remembered.
Click for more about IWFS. Posted by Ronald Holden at February 2, 2004 6:21 PM

Recent Entries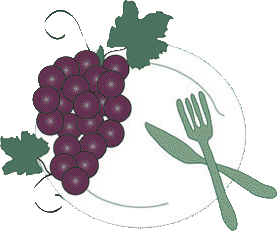 The International Kitchen
Cooking school vacations in Italy, France & Spain.
Archives
Links
The International Vineyard
, a new way to learn about wine in France, Italy and Spain: three-night programs for wine lovers in less-traveled regions.
The International Kitchen
, the leading source for culinary vacations in France and Italy.
French Word-A-Day
, fascinating lessons about language and daily life in Provence
Belltown Messenger
, chronicle of a Seattle neighborhood's denizens, derelicts, clubs, bars & eateries. Restaurant reviews by Cornichon.
Small Screen Network
, where food & drink celebrities like
Robert Hess
have recorded terrific videos.
French Chef Sally
is my friend Sally McArthur, who hosts luxurious, week-long cooking classes at the Chateau du Riveau in the Loire Valley.
Local Wine Events.com
, the worlds leading Food and Wine tasting calendar. Spirits and Beer events as well. Post your own event or sign up to be notified when new events are po sted to your own area.
VinoLover
, Seattle wine promoter David LeClaire's bulletin board of tastings, dinners and special events.
Wine Educator
Dieter Schafer
maintains a full schedule of Seattle-area tastings and seminars for amateur wine drinkers and professional alike.
Nat Decants
, a free wine e-newsletter from Natalie MacLean, recently named the World's Best Drink Writer at the World Food Media Awards in Australia. Wine picks, articles and humor; no ads.

More blogs about
food wine travel
.
Who links to me?