Barrio as Medieval Dungeon; Bliss to Follow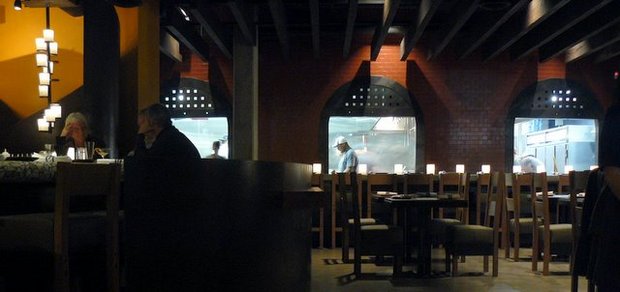 Open for a couple of weeks now on Capitol Hill's new Dining Row (12th Avenue between Pike and Pine), Barrio is on the ground floor of the recently completed Trace Lofts. Its niche is upscale Latin, part Mexican, part Spanish, part Inquisition. It's a venture by Larry and Tabitha Kurnofsky, the folks who operate the three Purple Wine Bar & Café (locations in Kirkland, Woodinville and downtown Seattle), and more concepts coming (see below), all under a new management company they call Heavy Restaurant Group.
The atmosphere at Barrio owes a lot to the heavy (even over-wrought) wrought-iron decor that Kurofsky pioneered at Purple's original eastside locations. From the moment you swing open Barrio's massive oak doors, you know you're not at Ikea anymore; it feels like you're in a medieval dungeon. The term barrio has come to have a meaning akin to ghetto; it really connotes a neighborhood. (Not, as in southern California, an underprivileged Hispanic enclave. And the word ghetto, for that matter, comes from the slag-heap in Venice where Jews were exiled.) You won't find tar-paper shacks in this nabe, no, señor,. Every element of the decor bespeaks substance and seriousness.
At the Purple Cafe in downtown Seattle, the imposing wine list begins with 14 flights of four wines, dozens of wines by the glass, and continues for 82 pages around the world. But the shortest of shrift is given to Spain. This is remedied at Barrio, where the beverage list features Mexican tequilas and Spanish wines.
Lead barman is Casey Robison, who's in the Murray Stenson-Jamie Boudreau mold of serious cocktail professionals. He uses only blue agave in his cocktails; makes his own sangria, makes his own sangrita (the citrus-based sippers that typically accompany shots of tequila); hand-cracks the ice cubes. You might think he even hand-cracked the ceramic tiles that top the bar.
As at the several Purples, the kitchen at Barrio has been assigned an ambitious menu. Much is justly said in favor of the duck confit tacos, served with a cherry-ancho salsa; no less tasty are the fresh seafood dishes (steamed mussels, crab cakes) and Spanish-style lamb chops and grilled rib-eye steak. Appetizers priced under $10, main courses in the mid-teens, and a separate tapas menu for happy hour.
Now, moving beyond the Capitol Hill Castillo, what's next for Heavy Restaurants? Another Barrio, another Purple and a dessert café, all to open next year in the 43-story Bellevue Towers. The third spot? Ah, if you read the headline, you already know: Bliss.
Barrio, 1420 12th Avenue, 206-588-8105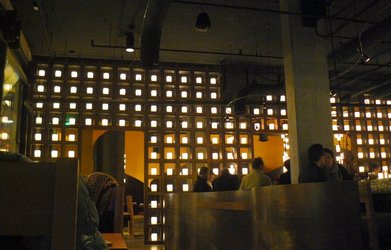 Red (tomato-based) and green (lime-based) sangritas; wall of 200 candles at Barrio.

Posted by Ronald Holden at December 20, 2008 11:00 AM | TrackBack

Recent Entries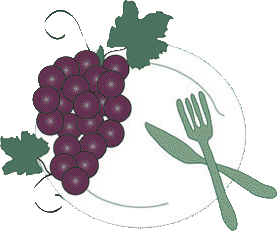 The International Kitchen
Cooking school vacations in Italy, France & Spain.
Archives
Links
The International Vineyard
, a new way to learn about wine in France, Italy and Spain: three-night programs for wine lovers in less-traveled regions.
The International Kitchen
, the leading source for culinary vacations in France and Italy.
French Word-A-Day
, fascinating lessons about language and daily life in Provence
Belltown Messenger
, chronicle of a Seattle neighborhood's denizens, derelicts, clubs, bars & eateries. Restaurant reviews by Cornichon.
Small Screen Network
, where food & drink celebrities like
Robert Hess
have recorded terrific videos.
French Chef Sally
is my friend Sally McArthur, who hosts luxurious, week-long cooking classes at the Chateau du Riveau in the Loire Valley.
Local Wine Events.com
, the worlds leading Food and Wine tasting calendar. Spirits and Beer events as well. Post your own event or sign up to be notified when new events are po sted to your own area.
VinoLover
, Seattle wine promoter David LeClaire's bulletin board of tastings, dinners and special events.
Wine Educator
Dieter Schafer
maintains a full schedule of Seattle-area tastings and seminars for amateur wine drinkers and professional alike.
Nat Decants
, a free wine e-newsletter from Natalie MacLean, recently named the World's Best Drink Writer at the World Food Media Awards in Australia. Wine picks, articles and humor; no ads.

More blogs about
food wine travel
.
Who links to me?