Braving the Elementals
In the overlapping sets of Seattle restaurant owners and people who are dicks there stands Phred Westfall, and it's not because he spells his name funny. Call him eccentric, call him quirky, call him sui generis if you must, but he's got a most unusual way of running his candy store, Elemental @ Gasworks.
Elemental's kitchen, by Laurie Riedmeman, does very well indeed. Last meal here was exceptional, in fact. After a refreshing aperitif, a cascade of delights: gnocchetti, beef tartar topped with a quail egg, asparagus-spinach salad with shaved parmesan, quail over green beans, a pulled pork tamale with corn, a generous cheese board. Wines to match each course (selected and poured by Phred, on his best behavior), and the tab (which includes tax & tip) was about $80.
Stories about Phred's capricious manner (alternately annoying and standoff-ish, occasionally solicitous) have been circulating for years (see UrbanSpoon, Yelp, CitySearch, etc.), but Bethany Jean Clement's review, earlier this month, of the adjacent space known as E.lemental N.ext D.oor (END) suggested things were getting better. She reported that "END's menu, on a pulled-down roll of butcher paper, bears the inked message SAME FOOD, LESS ATTITUDE."
And yet, just when we thought it might be safe to get back into the water: Not. We hear that Westfall lost his composure again this weekend after a guest took issue with the restaurant's cavalier response to a question about available seating ("I'm not psychic!"). Impolite words were spoken by both parties, whereupon Westfall physically assaulted the hapless guest. Now, we know that people get into the restaurant business for all sorts of passive-aggressive reasons ("I just want to feed people" is the most common), but sadism shouldn't be one of them. That's just dickish.
Elemental @ Gasworks, 3900 Wallingford Avenue N., 206-547-2317
Posted by Ronald Holden at June 30, 2009 9:00 AM | TrackBack

Recent Entries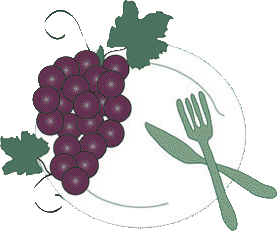 The International Kitchen
Cooking school vacations in Italy, France & Spain.
Archives
Links
The International Vineyard
, a new way to learn about wine in France, Italy and Spain: three-night programs for wine lovers in less-traveled regions.
The International Kitchen
, the leading source for culinary vacations in France and Italy.
French Word-A-Day
, fascinating lessons about language and daily life in Provence
Belltown Messenger
, chronicle of a Seattle neighborhood's denizens, derelicts, clubs, bars & eateries. Restaurant reviews by Cornichon.
Small Screen Network
, where food & drink celebrities like
Robert Hess
have recorded terrific videos.
French Chef Sally
is my friend Sally McArthur, who hosts luxurious, week-long cooking classes at the Chateau du Riveau in the Loire Valley.
Local Wine Events.com
, the worlds leading Food and Wine tasting calendar. Spirits and Beer events as well. Post your own event or sign up to be notified when new events are po sted to your own area.
VinoLover
, Seattle wine promoter David LeClaire's bulletin board of tastings, dinners and special events.
Wine Educator
Dieter Schafer
maintains a full schedule of Seattle-area tastings and seminars for amateur wine drinkers and professional alike.
Nat Decants
, a free wine e-newsletter from Natalie MacLean, recently named the World's Best Drink Writer at the World Food Media Awards in Australia. Wine picks, articles and humor; no ads.

More blogs about
food wine travel
.
Who links to me?