West Seattle's New Happy Hour: Big Bento
Fresh Bistro, an offshoot of SODO's splendid event space Herban Feast, has been open in West Seattle since May. Exec chef and co-owner Dalis Chea (also exec chef at Feast) showcases a new Happy Hour schtick: Big Bento, that combines all the items on the Happy Hour menu for a $10 savings. Best news: Ben tolls twice nightly, 4-6 Monday-Friday, 9-11 Monday-Saturday,

Tasting notes from Heed the Hedonist's Hedonista:
Personal favorites include the Shiso Crusted Honey Pecan Prawns (at first glance, the sriracha foam seems a bit odd and out-of-place, but it actually works, and the the green mango slaw is a nice complement); Braised Baby Octopus (fabulously smoky with a nice, not-chewy consistency); Crispy Pork Belly Banh Mi Sliders (spicy with a light greens mouth feel); and the Sweet Potato and Dungeness Crab Cakes (really liked the chipotle remoulade and smoked paprika & chive oils).
The Kalbhi Marinated Grilled Kobe Style Flank Steak was deliciously marinated, but a couple of the cuts were a bit too high in fat content for my taste (LOVE the cucumber pickle side, however). And the Creamy Butternut Squash Soup – with its apple cider gastrique and crispy brussel sprout greens – was quite tasty with great texture from the greens, but the gastrique gave it a sweet taste that didn't really go with the rest of the bento bonanza. (Would really like to see a miso, phở, sweet 'n' sour, or wonton soup here.) The Fresh Bistro Salad was your basic salad – feel free to request your poached egg on the side, if you don't care for it placed directly on your greens.
Wash it all down with their signature vodka-based (and very fruitful) "Mural" - named for the condo building Fresh Bistro calls home. You might need two Murals, 'cause there's a %*! lot of food in this bento.
Fresh Bistro, 4725 42nd Ave SW, 206-935-3733
Posted by Ronald Holden at October 20, 2009 8:18 AM | TrackBack

Recent Entries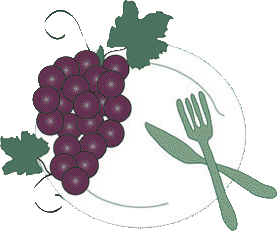 The International Kitchen
Cooking school vacations in Italy, France & Spain.
Archives
Links
The International Vineyard
, a new way to learn about wine in France, Italy and Spain: three-night programs for wine lovers in less-traveled regions.
The International Kitchen
, the leading source for culinary vacations in France and Italy.
French Word-A-Day
, fascinating lessons about language and daily life in Provence
Belltown Messenger
, chronicle of a Seattle neighborhood's denizens, derelicts, clubs, bars & eateries. Restaurant reviews by Cornichon.
Small Screen Network
, where food & drink celebrities like
Robert Hess
have recorded terrific videos.
French Chef Sally
is my friend Sally McArthur, who hosts luxurious, week-long cooking classes at the Chateau du Riveau in the Loire Valley.
Local Wine Events.com
, the worlds leading Food and Wine tasting calendar. Spirits and Beer events as well. Post your own event or sign up to be notified when new events are po sted to your own area.
VinoLover
, Seattle wine promoter David LeClaire's bulletin board of tastings, dinners and special events.
Wine Educator
Dieter Schafer
maintains a full schedule of Seattle-area tastings and seminars for amateur wine drinkers and professional alike.
Nat Decants
, a free wine e-newsletter from Natalie MacLean, recently named the World's Best Drink Writer at the World Food Media Awards in Australia. Wine picks, articles and humor; no ads.

More blogs about
food wine travel
.
Who links to me?